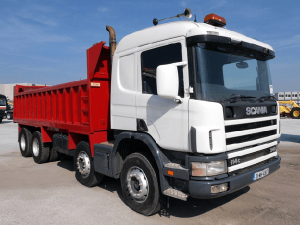 1. What are cargo trucks used for?
Cargo trucks are heavy-duty trucks designed to haul heavy construction materials or other goods over both short and long distances. Cargo trucks have a variety of uses such as hauling stone, brick, or cement. Cargo trucks are also used to transport all sorts of goods from one point to the other. Different models have different specifications and designs to accommodate different needs.
2. Should I rent or buy a cargo truck?
Renting and buying a cargo truck both have their pros and cons. Mostly it depends on your project duration and requirements. It also depends on the kind of project you are working on and the total budget of that project. Depending on your specific needs, you can choose to buy or rent. However, the cost of renting a cargo truck might be expensive, and buying one would be cheaper, especially because you can always resell it after the project.
3. How much is a cargo truck?
A cargo truck will cost anywhere from USD30,000 - USD 200,000. The exact price will vary depending on the type of cargo truck, the model, and the brand it is manufactured from.
4. Where would I find a cargo truck for sale?
Cargo trucks can be found from both local equipment suppliers or foreign manufacturers and suppliers. Although local cargo truck suppliers may work faster, it is advisable to buy from reputable suppliers and brands to save on cost while ensuring you get high-quality equipment. International suppliers who promise quick and easy delivery and provide more options to choose from can streamline your buying process.
At Camamach, we source cargo trucks directly from China's reputable manufacturing brands and have them shipped directly to YOU! We have years of experience in the industry and prioritize your order in a time and cost-friendly manner. If you have any further questions about our manufacturing plants or how you can buy heavy equipment from us, please send us a message via the contact us page.
5. What is the typical response time for a cargo truck inquiry?
The exact response time for a cargo truck inquiry depends largely on the supplier. However, a response will be given within 48 hours. General inquiries may have faster response times than specific and detailed ones. Most suppliers will usually respond within 24 hours.
At Camamach we take pride in our efficiency and dependability. A sales representative will reach out to you within 24 hours from submission to discuss your inquiry or quotation.
6. Can I order cargo trucks both in bulk and in small quantities?
Local suppliers will allow you to order in both bulk and small quantities. However, most international suppliers have a minimum order quantity due to the detailed and extensive process for international orders. A sourcing agent will need to be contacted to bypass the minimum order quantity for some international orders.
Camamach is a Chinese sourcing agent that can help; we are experienced at managing both bulk and small orders for cargo trucks and other heavy construction equipment.
7. How do I choose the right cargo truck?
The choice of a cargo truck to use mostly depends on the specific projects it will be used for. Some factors to consider would be:
Project type
The capacity of the truck
Engine performance
Truck features
Truck bed dimensions
All the above factors should match your needs depending on the project type and scale of your construction projects. Regardless of project type, look for a cargo truck with a good quality-price ratio from a reputable brand.
At Camamach we provide an in-depth description and analysis based on the specifications of the specific cargo truck model, along with details about the truck brand. Camamach has a list of distinct models on our cargo truck product page with specifications, price, and branding.
8. Can a cargo truck be shipped to my country?
Most cargo trucks are exported from the United States, China, Japan, and Germany. This is because these countries are home to very popular truck manufacturers like DAF, Hino, Daimler, and Sinotruck. Depending on where the cargo truck is being imported from, you will need to check either the supplier or research trade regulations between the two countries.
Camamach ships to many countries and regions all around the world. We typically ship to the largest port of the country unless otherwise specified. The countries we export to can be found on our countries served page.
9. How to choose a cargo truck brand or manufacturer?
Choosing a cargo truck brand/manufacturer can be done through personal research or by reaching out to a sourcing agent for assistance. Some key points to look out for would be:
Customer reviews
Good reputation
Product range
Availability in your country
Project requirements
Quality-price ratio
Delivery options
If you go with a sourcing agent, they can help you locate a suitable manufacturer easier as agents are more familiar with the market. Camamach only partners with well-known construction equipment manufacturers. We provide a range of different cargo truck models from reputable and recognized Chinese brands such as Sinotruck.
10. What forms of payment are accepted for international cargo truck orders?
Most payments are accepted in USD currency. Accepted payment methods for international cargo truck orders are:
International wire transfer
Letter of credit
Telegraphic transfer (t/t)
Certain suppliers may offer additional payment methods. Camamach accepts all payment methods listed above.
11. Are international cargo truck shipments insured?
Certain international cargo truck products may be insured, but many products may not be covered. Shipment insurance depends solely on the supplier and the shipping courier.
Camamach covers all risks for covered products ONLY. It is the buyer's discretion to decide whether or not to pay an additional risk premium. Learn more details about insurance on our terms of sale page.