What is Telescopic Handler?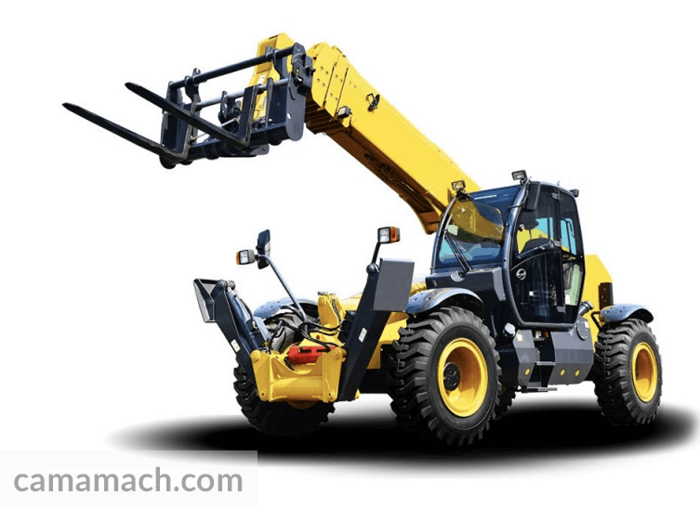 A telescopic handler is a construction machine having a resemblance to a crane. It is used for boom lift heavy materials. It works the same as a forklift, but due to its structure, the functionality is better than a forklift because it can easily lift heavyweight. Its resemblance makes construction and agricultural fieldwork so easy. It has different models, and its new feature helps to move it forward and upward so smoothly with lifting heavyweight. 
Telescopic handler features:
It can lift heavy weight easily.
Can transport heavy materials and equipment so smoothly.
Its new feature helps to move forward and upward by lifting the heavyweight.
Better than a forklift to perform tasks in less time and smoothly without any mistake.
Additionally, a telescopic handler can shift heavy equipment on a rooftop of the construction site. 
It performs things faster than forklifts to achieve your targets fastly. 
Telescopic Handler uses:
There are two types of Telescopic Handler, and the usage depends on their form. The 7-ton machine can reach a certain height to shift materials. However, the 14-ton machine can lift equipment to the rooftop of a high building. It boom lifts the heavy materials and equipment. These machines are used in basically construction sites and agricultural fields to make the work easy.
Types of Telescopic Handler:
Weights can be in different terms like some weight requires small machinery and heavyweights require big machinery. So, we have the telescopic handler in two different sizes:
It is a powerful machine having body dimensions of 4620*2355*2415mm with a wheelbase of 2850mm with an overall body weight is 7250 kg. It can carry weight up to 3000kg the power of the machine has the capacity of 90kw. Its forward reach is 1250kg and can lift things to 6200mm.
It can hold a weight of 500mm at center distance. Moreover, the luffing angle of a telescopic handler is -3-65°. In addition to this, its fork angle is 90-18°. It can cover a distance of 40km/h. It can rotate its body with a radius of ≤4020mm of a braking distance of ≤8m. 
It is a larger machine than the previous one having body dimensions of 6960*2500*2850mm with a wheelbase of 3900mm with overall body weight is 13500 kg. It can carry weight up to 4500kg, the power of the machine has a capacity of 82/74.9kW. Its forward reach is 490kg and can lift things to 16700mm. It can hold a weight of 600mm at center distance.
 A telescopic handler includes a -4-75° luffing angle and a 90/18° fork angle. 
It can cover a distance of 36km/h. It can rotate its body with a radius of ≤5000mm. This ratio is suitable to perform large-scale operations to do that space is not wasted unnecessarily.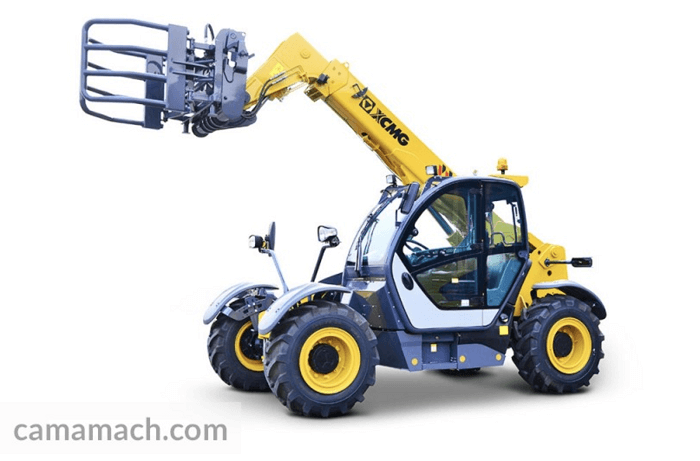 Which Countries Manufacture Telescopic Handler in Bulk?
The prime producers of Telescopic Handler are China, Hong Kong, Kenya, and Zambia. You also can buy the same product from these countries according to your comfort and convenience. Consumption of Telescopic Handler has been increased dramatically over the world, especially in developing countries.
Telescopic Handler price
Regarding the pricing of Telescopic Handler, we put all our efforts into researching the quality brands of Telescopic Handler. Our main aim is to find the equipment with the best specifications at the most affordable price. It is necessary to have more reliable equipment which will serve for long years and not too costly. We are happy to provide you every small detail of specifications of the equipment with a pocket-friendly budget.
Who are the Top Chinese Manufacturers of Telescopic Handler?
Camamach – Telescopic Handler
There are many companies in China that manufacture Telescopic Handler. Through years of experience in factory auditing, supplier development, testing and after sales service, Camamach has chosen top local Original Equipment Manufacturers (OEM) of Telescopic Handler as suppliers. We are confident to offer you the latest Telescopic Handler. Feel free to contact us for specifications, pricing and videos of this product.
Here at Camamach we have many other types of Agricultural Equipment for Sale such as:
3) Plows
Where to buy Telescopic Handler?
You may be able to find Telescopic Handler in your locality. But if you want to purchase a high-quality, competitively priced Telescopic Handler, we prefer you to import directly from the manufacturers. It is way better to buy from a local distributor. The manufacturers will give you certifications, and it is the best way to save money. At Camamach, we have Telescopic Handler with high-quality construction equipment for sale that is required at competitive and affordable prices. Have a look at our other weight lifting machinery along with Telescopic Handler are:
All-Terrain Crane
Crawler Crane
Fork Lift
Rough Terrain Crane
Truck Crane
Truck Mounted Crane.
If you need to purchase the Telescopic Handler in bulk, then contact us for Telescopic Handler details and pricing on our website.
We also have facilities to export worldwide, so you can contact us for a FREE quotation today via email [email protected] or send a message on WhatsApp for a fast response +86-131-2037-9271.