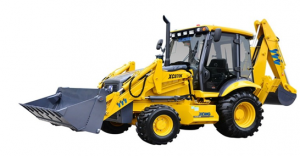 1 . What are backhoe loaders used for?
Backhoe loaders are a type of heavy machinery designed for multiple uses such as construction, excavation, transporting light building materials, small demolitions, and paving of roads. Backhoe loaders are built differently with each design built to specialize to a specific function. These designs may vary in terms of size, versatility, and rotation thus one should select the machine that best suits their needs.
2 . Should I buy or lease a backhoe loader?
Both buying and renting a backhoe loader have their advantages and setbacks. However, this decision entirely depends on the most cost-efficient method since it would be cheaper to hire the backhoe loader if the project is only for a short period whereas buying the machine might prove to be cheaper for long-term projects.
3 . How much is a backhoe loader?
A backhoe loader will cost anywhere from USD30,000 - USD 180,000. The exact price will vary depending on the type of backhoe loader, the model, and the brand it is manufactured from.
4 . Where would I find a backhoe loader for sale?
Backhoe loaders can be found locally from local importers or international suppliers. Though it may be easier to source the machinery from local sources it would be budget-friendly to purchase the machinery from international suppliers.
At Camamach, we source backhoe loaders directly from China's reputable manufacturing brands and have them shipped directly to YOU! We have years of experience in the industry and prioritize your order in a time and cost-friendly manner. If you have any further questions about our manufacturing plants or how you can buy heavy equipment from us, please send us a message via the contact us page.
5 . What is the typical response time for a backhoe loader inquiry?
The response time mainly depends on the supplier and means used to inquire in that a phone call may prompt response faster than an e-mail. However, a response is guaranteed within 48 hours.
We at Camamach take pride in our efficiency and dependability. A sales representative will reach out to you within 24 hours from submission to discuss your inquiry or quotation.
6 . Can I order backhoe loaders both in bulk and in small quantities?
It is possible to order both bulk and small quantities depending on one's needs. However, many international suppliers have a minimum order quantity due to the detailed and extensive process for international orders. A sourcing agent will need to be contacted to bypass the minimum order quantity for some international orders.
Camamach ships to many countries and regions all around the world. We typically ship to the largest port of the country unless otherwise specified. The countries we export to can be found on our countries served page.
7 . How do I choose the right backhoe loader?
Choosing the right backhoe loader depends on the specific task that the machine will be performing. One has to put into consideration the specifications of the backhoe loader such as:
Maximum digging depth
Bucket capacity
Horsepower
Operating weight
To get a good quality backhoe loader that will satisfy your needs it is important to consider all of the factors stated above. Regardless of project type, make sure that to choose the right backhoe loader with a good quality-price ratio from a reputable brand.
At Camamach we make sure to provide a detailed analysis based on the specifications of the specific backhoe loader model, along with details about the machinery brand. Camamach has a list of distinct models on our backhoe loader page with specifications, price, and branding.
8 . Can a backhoe loader be shipped to my country
Most backhoe loaders are exported from the United States, China, Japan, and Germany. This is because these countries are home to very popular truck manufacturers like DAF, Hino, Daimler, and Sinotruck. Depending on where the backhoe loader is being imported from, you will need to check either the supplier or research trade regulations between the two countries.
Camamach ships to many countries and regions all around the world. We typically ship to the largest port of the country unless otherwise specified. The countries we export to can be found on our countries served page.
9 . How to choose a backhoe loader brand or manufacturer?
Choosing the right back manufacturer for a backhoe manufacturer can be done through personal research and reviews from previous customers on the manufacture's website. Generally, you want to look for these characteristics from a brand:
Good reputation
Delivery options
Project requirements
Availability in your country
The durability of the machine
Here at Camamach, we only partner with renowned manufacturers such as XCMG and SDLG.
10 . What forms of payment are accepted for international backhoe loaders orders?
Most payments are accepted in USD currency. Accepted payment methods for international rough terrain crane orders generally include:
International wire transfer
Letter of credit
Telegraphic transfer (t/t)
Certain suppliers may offer additional payment methods. Camamach accepts all payment methods listed above.
11 . Are international backhoe loader shipments insured?
Certain international backhoe loader shipments may be insured, but many products may not be covered. Shipment insurance depends solely on the supplier and the shipping courier.
Camamach covers all risks for covered products ONLY. It is the buyer's discretion to decide whether or not to pay an additional risk premium. Learn more details about insurance on our terms of sale page.