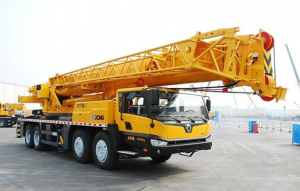 A truck mounted crane, also known as truck loader crane, is a type of heavy construction equipment that has a crane which is used to lift and lower heavy products and materials. This industrial machine is widely used in ports, road construction operations and industrial construction sites. The typical truck mounted crane price ranges from $28000 - $85,000.
What are the XCMG QY70K Truck Mounted Crane Special Features?
1. Optimized oil port radiator
The layout mode of the oil port radiator has been optimized, the heat radiating area of core is increased by 50%, radiation power of hydraulic oil radiator is improved from 10kW to 18kW, permissible ambient temperature exceeds 55ºC, all which meets the requirements for high temperature operation.
2. Efficient hydraulic components
The seals of key hydraulic components such hydraulic pump, hydraulic motor, extension cylinder, jack cylinder, steering boosting cylinder, elevating cylinder and telescoping cylinder are upgraded to high temperature resistant silicon rubber lip seal, working efficiency is improved by 10%.
3. Safe wiring harness
The protecting ply of wiring harness is produced according to QC/T29106-2004 Technical Conditions of Automobile Low-voltage Wiring Harness. Heat-resistant temperature is increased to 105ºC, corrugated pipes are added for protection, and protection class of plug-ins is IP67. The service life in high temperature operation exceeds 15 years.
Why buy a Truck Mounted Crane and what Construction Projects are they for?
The primary purpose of the QY70K truck mounted crane is load handling. The Truck Mounted Crane can be replaced by other attachments based on the specifics of the construction project. This truck mounted crane can be used both for commercial and private construction projects, and are primarily used for road construction projects. XMCG can also customize the machine to suit your need.
Where to Find a Truck Mounted Crane for Sale?
Ordering the QY70K truck mounted crane from XCMG directly has become more accessible over the years, but it can still be a slow and time-consuming process, especially when buying small quantities of equipment. You might also face difficulties such as language barriers and non-ideal prices. Therefore, Camamach may be a better choice for you. At Camamach, we have experience with reliable products and equipment from XCMG and other Chinese construction machinery manufacturers, all while helping you get the machine you desire at a competitive price.