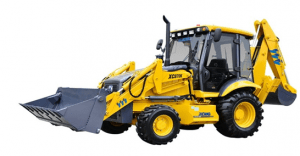 A backhoe loader, also known as an excavator loader, is a type of heavy construction equipment that consists of three construction equipment put together into one masterpiece. It is ideal for small demolition, transporting building materials, and paving roads. Backhoe loaders are helpful in many industries and worksites, including:
Road construction
Road construction
Landscaping
Backhoe loaders are an extremely common piece of machinery found on most construction sites. Typical backhoe loader price ranges from $37.500 to $150,000.
1. Hydraulic system
XCMG's backhoe loader XC870 adopts an advanced hydraulic system distribution technology for energy-saving and efficiency during operation. It provides a maximum flow of 154L/min to meet the demands of more attachments. Also, during the digging and loading combination activities, you can cut off the engine power going from the drive system to the hydraulic system for improved digging and loading efficiency.
2. Double pump confluence system
This system found in XCMG backhoe loader XC870 has an unloading function that can manually or automatically switch over to an individual pump. This helps to cater to various working conditions and reduce the high pressure by the auxiliary pump, which provides high intelligence and energy-saving performance.
3. Upgraded engine emission
The engine emission system of backhoe loader XC870 from XCMG is environmental-friendly. It emits little to no smoke during operations. As a result, it reduces air pollution caused by harmful gases emitted by machinery during construction projects.
4. Load-sensing system
This type of backhoe loader has an independently developed load-sensing system that ease its usage during construction projects. The system provides smooth digging and loading combination motions. Besides, it allows low motion changeover impact, energy-saving, and high efficiency.
Why Buy an XCMG Backhoe Loader XC870, and which Construction Projects are they for?
The XCMG backhoe loader XC870 is new and improved with many new additional special features to make work at the construction site easier. The XCMG backhoe loader XC870 is handy in various construction tasks and activities, including;
Transporting
Paving
Demolition
Digging
The XCMG backhoe loader XC870 is customizable and can be fitted with other attachments based on the specifics of the construction project. This backhoe loader can be used both for commercial and private construction projects. However, it would be ideal for medium-sized to bigger projects due to the heavy-duty characteristics of this specific model. XCMG can also customize backhoe loader XC870 to suit your specific needs; just let Camamach know what you intend to use this machine for!
Where to Find XCMG Backhoe Loader XC870 for Sale?
Ordering the backhoe loader XC870 from XCMG directly has become more accessible over the years. However, it can still be a slow and time-consuming process, especially when buying small quantities of equipment. You might also face difficulties such as language barriers and non-ideal prices. Therefore, Camamach may be a better choice for you. At Camamach, we have experience with reliable products and equipment from XCMG and other Chinese construction machinery manufacturers, all while helping you get the machine you desire at a competitive price.