What is a Wheel Loader?
A wheel loader, sometimes referred to as a scoop loader, is a type of heavy construction equipment commonly found in medium and large-scale ground-moving projects. It is ideal for scooping, holding, and transporting materials such as dirt or sand. Wheel loaders fit many industries and worksites, including:
Large-scale farming
Mining
Road construction
Building construction
Wheel loaders are an extremely common piece of machinery found in most construction sites. The typical wheel loader price ranges from $ 42,500 to $43,800 USD.
What are the XCMG LW500FN Wheel Loader Special Features?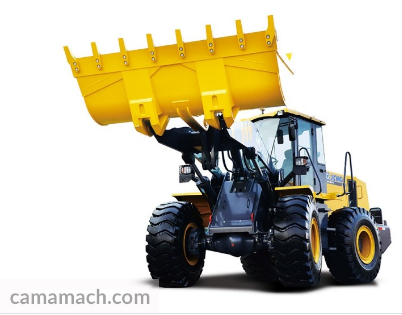 1. Hardy design
The XCMG LW500FN wheel loader is designed to suit harsh environments such as rocky and uneven areas. These machines are more powerful than a skid steer and hence, won't break as easily. They can lift almost everything, including debris, dirt, and gravel, on a construction site.
2. Wheels
The set of wheels on the XCMG LW500FN helps the machine with better maneuverability. It can drive on roads and worksites without damaging the finished concrete or asphalt. Unlike the backhoe loader, a wheel loader only operates with its single attachment at the front.
3. Variety in size and type
There are different types and sizes of XCMG LW500FN wheel loaders. Their bucket size varies from one type to the other. This broadens the scope of their operations from small, medium, to large construction projects. You can choose depending on your specific needs.
4. An engine with turbo pre-cleaner
Since XCMG LW500FN wheel loaders are suitable for harsh environments, they are likely to trap a lot of dust during operations. This is where the engine with turbo pre-cleaner helps them to function in such conditions without breaking. It cleans the dust and also controls the high humidity.
Why buy an XCMG LW500FN Wheel Loader, and What Construction Projects are they for?
The XCMG LW500FN is new and improved with many new additional special features to make work at the construction site easier. The LW500FN is particularly useful in various construction tasks and activities, including:
Scooping materials such as sand and gravels
Transporting construction materials
Removing waste and debris from a construction site
The LW500FN wheel loader is customizable and can be fitted with other attachments based on the specifics of the construction project. This wheel loader can be used both for commercial and private construction projects; however, it would be ideal for bigger projects because of the heavy duty of this specific model. XCMG can also customize the LW500FN to suit your specific needs; just let Camamach know what you intend to use this machine for!
Where to Find an LW500FN Wheel Loader for Sale?
Alt tag: XCMG LW700KN Apart of the LW Series – XCMG Machinery for Sale Ordering the LW500FN from XCMG directly has become more accessible over the years, but it can still be a slow and time-consuming process, especially when buying small quantities of equipment. You might also face difficulties such as language barriers and non-ideal prices. Therefore, Camamach may be a better choice for you. At Camamach, we have experience with reliable products and equipment from XCMG and other Chinese construction machinery manufacturers, all while helping you get the machine you desire at a competitive price.