HBXG Quick Facts:
Location: Xuanhua, China
Founded: 1950
CEO & Chairman: Mr. Jianchun Wang
Categories of Specialization
Bulldozers
Snow Groomers
Drilling Rigs
Motor Graders
And much more
Market Position
HBXG ranks among the top 500 enterprises in the world and dominates a major portion of China's bulldozer market.
HBXG exports equipment to over 90 countries and regions.
The brand has an annual revenue of CNY 10 billion.
How is HBXG Quality, and What is HBXG known for?
HBXG is primarily known as the leading manufacturer of bulldozers in China. It is a large-scale state-owned company that apart from producing world class construction equipment, is also involved in financial services, mineral resources, logistics, and steel trade.
Being one of the pioneering companies of China, the brand also has over 20 patents, and all quality assurance certifications from the government. The company has a rich legacy and has been producing benchmark machinery for more than half a century. It is one of the brands that is closely connected with Chinese interests of national growth.
HBXG products are recognized and demanded all over the globe. It has maintained billions of dollars of annual revenue despite the harsh economic conditions. Reports suggest growth plans by the brand in the coming future as it furthers its endeavors towards innovative development of construction and domestic machinery.
What are the Most Popular HBXG Products?
HBXG has maintained a stellar reputation over the years with quality and reliability. Here we have listed some of the most popular products by the brand:
Bulldozers
Popular HBXG Bulldozers – T Series bulldozer / SD series bulldozer / Hydrostatic bulldozer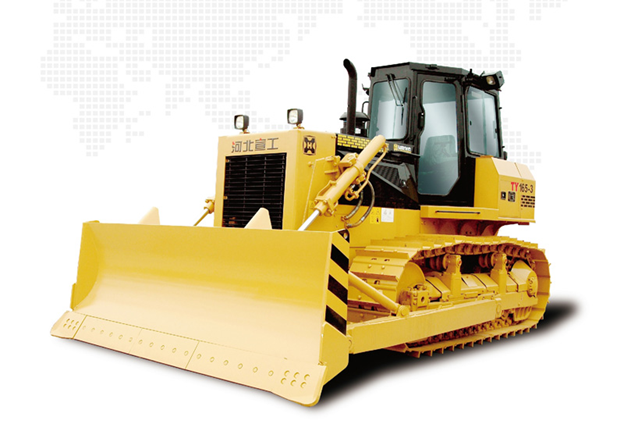 This is the TY165-3 bulldozer from HBXG T series. It features 165 horsepower on tracks, a hydraulic direct drive, hydraulic assisting operating, and hydraulic blade control. With an optimized structure, this bulldozer has a three shanks ripper, a 5.2 cubic meter capacity U-blade, and room for optional components. You will find it ideal in road construction, agriculture, and mining environments.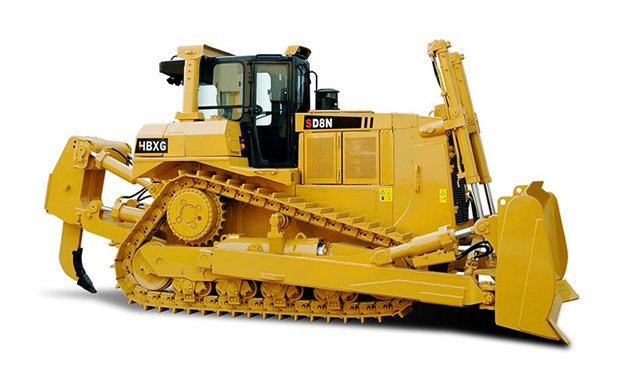 This is the SD8N bulldozer from HBXG SD series. It has a Cummins NTA855-C360S10 engine, an elevated sprocket, hydraulic direct drive, hydraulic mechanical torque convertor, a lever control transmission, and semi-rigid hydraulics control system. It can be used in road construction, mining projects, and land clearance.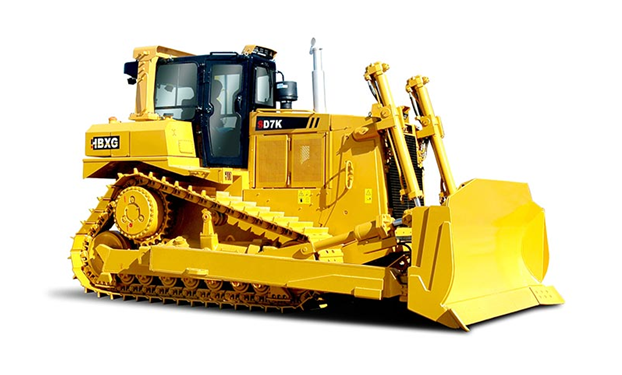 This is the SD7K bulldozer from HBXG hydrostatic series. It features a tier 3 electronic control Weichai WP12G250E302 engine, is semi-rigid suspended, has elevated sprocket, and a hydrostatic transmission with variable speed. It is best utilized in construction transportation, oil fields, power projects, mining projects, and heavy earth moving projects.
Popular Snow Groomer – HBXG SG400 High-end Snow Groomer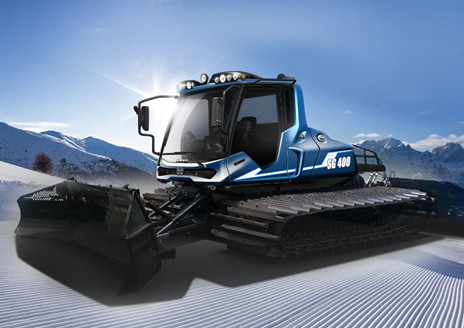 The HBXG SG400 high-end snow groomer is one of the best snow way construction machineries in the market. It features a high-end power system, hydraulic transmission, hydro-electric control system, light and low temperature materials, and an ergonomic design. This model offers a 360 HP Cummins engine and a 260l fuel tank.
Popular Cultivator – HBXG SG400 High-end Snow Groomer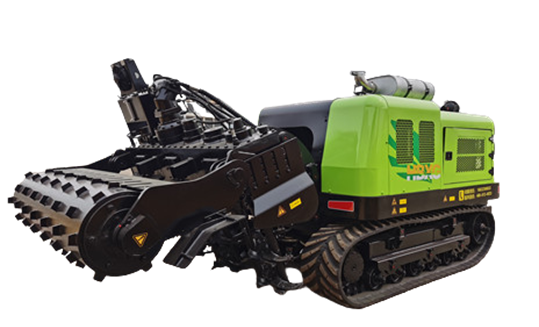 The HBXG FS770-30 cultivator features a Dongfeng Cummins QSZ13-C550-Ⅲ engine, a rubber track, a double circuit loop electric control hydrostatic driving system, and a multi disk braking system. It is the ideal machines for cultivating your farms.
Popular Drilling Rig – HBXG T45 Full Hydraulic Top Hammer Surface Drilling Rig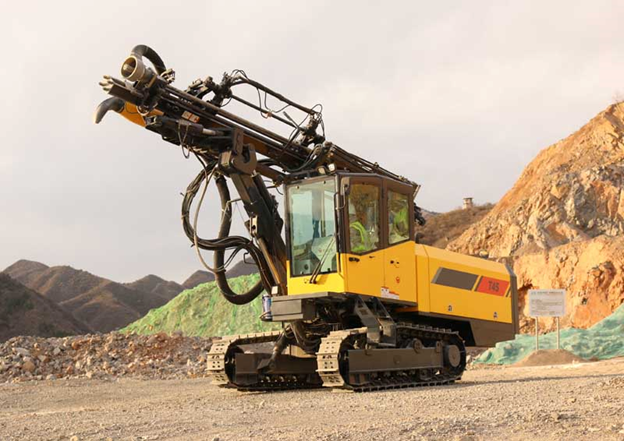 The HBXG T45 Full Hydraulic Top Hammer Surface Drilling Rig is equipped with the renowned YAMAMOTO high-power hydraulic rock drilling rig which offers both reliability and long service life to the machine. It features a Cummins engine, advanced control system, and an American made compressor which provides enough gas for hole cleaning and discharging rock cuttings.
Popular Wheel Loader – HBXG XGL857 Wheel Loader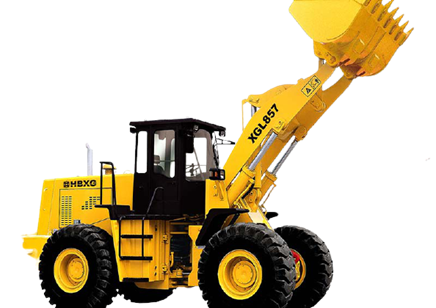 The HBXG XGL857 Wheel Loader is a high quality and reliable machine featuring a long wheelbase and a large frame for stability and a better breakout force. It has a planetary power shift transmission, dual turbine torque convertor, and a quenched internal bucket with great wearing resistance and strength.
Popular Roller – HBXG XHS622H Roller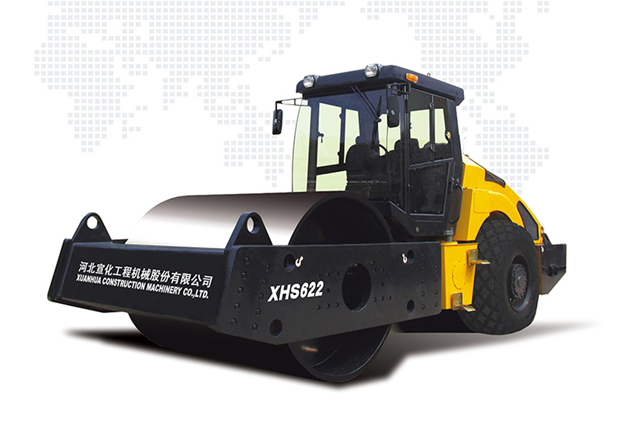 The HBXG XHS622H Roller features a Cummins extra-pressure diesel engine, a rear wheel drive, total hydraulic pressure, radiation and frequency conversion, couple of stepless speed changes, and an interconnected direction change. The hydraulic pump and motor of the of the machine are manufactured by American brands like Germany Rexroth or Sauer.
Popular Motor Grader – HBXG XHP220C Motor Grader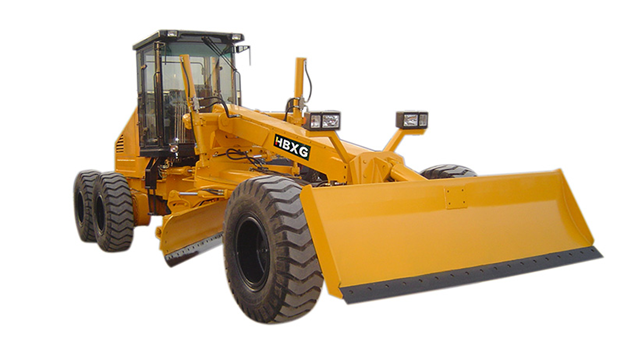 The HBXG XHP220C Motor Grader packs a powerful brand engine for powerful performance, a flexible hydraulics control system, hydraulic equalizing valve, 6 forward gears, and 3 backward gears.
What are the Costs of HBXG Products?
What is the Cost of a Bulldozers for Sale?
The above listed HBXG bulldozers range from $50,000 to $178,000 USD. The price range is dependent on the bulldozer series, size, and model. It may also change with market conditions. The best practice is to ask Camamach to get you the latest and best possible rates and deals for you.
What is the Cost of Snow Groomer for Sale?
The HBXG snow groomer ranges up to $50,000. To get the most recent price on the product and possibly great deals, contact Camamach now.
What is the Cost of Drilling Rigs for Sale?
The HBXG drilling rigs fall close to the price range of $50,000 USD. But this price is prone to changes depending on the size and model of the machine you order. Camamach can get you the most recent rates and great deals that you won't get with direct ordering.
What is the Cost of HBXG Wheel Loaders for Sale?
The HBXG wheel loader can ranges up to $47,000 USD. But the price is dependant on the size and model. Its best to get up to date rates through Camamach where you can also get great deals.
What is the Cost of Rollers for Sale?
The HBXG rollers fall in then $50,000 to $75,000 range. The price depends on the model of the machine and may also vary with market. Contact Camamach for the latest rates on this product.
What is the Cost of Motor Graders for Sale?
The HBXG rollers fall in then $50,000 to $75,000 range. The price depends on the model of the machine and may also vary with market. Contact Camamach for the latest rates on this product.
Why is it better to import from China?
Chinese manufacturers have simplified the ordering process for international customers in recent years. However, it still needs extensive understanding of the laws and is time demanding, especially for bulk equipment.
It is best to work with a recognized supplier, such as Camamach. Some of the most frequent issues that people encounter in these situations are:
The use of a different language creates a communication barrier.
Small orders are usually kept at low priority.
A brand's local distributor might not be available in your country.
Its relatively harder to get deals on small orders.
Camamach works exclusively with the manufacturers and handles all of the technicalities while finding you the best pricing and offers available.
Why Should you Choose Camamach for importing equipment from China?
The false rhetoric against Chinese-made goods has long been suppressed. China is on its path to being the next superpower, which means the country's quality control rules are world-class. Importing equipment from a Chinese manufacturer also has cost and production advantages. When you mix this with the recognized help of Camamach, you will get better outcomes at the lowest feasible cost.
Here are some of the things Camamach does for its customers:
Frequent Factory Visits
The first step in ensuring that our clients receive the premium products is to supervise the manufacturing process. We verify that the company strictly conforms to all regulations and requirements through regular factory visits.
Identification of Quality Products from Reliable Manufacturers
Camamach has strict manufacturer selection criteria that has been honed through years of industry experience. This guarantees that our customers receive greater goods.
End to End Procurement
Camamach oversees the whole procurement process, from order to shipment. This is really convenient for our customers.
Cost Savings
China is great for importing affordable high-quality products. Camamach supports its clients by obtaining the finest market deals accessible.
Experienced Manufacturers
Camamach has been in the industry for decades and only works with experienced companies that have a strong reputation. We have shipped products to over 20 countries with the help of such companies.
Long Term Cooperation
Camamach strives for long-term business ties with its customers. Therefore, it offers long-term collaboration in which clients receive assistance with order-related difficulties.
Continuous QA/QC
Camamach guarantees that every step in the order is accurate and that our customers receive the highest quality product through continuous quality control and assurance checks.


Where and How to Buy HBXG Equipment and Products?
Here at Camamach, we have premium quality construction equipment from HBXG and other Chinese manufacturers for sale at reasonable rates. The ordering process remains as simple as ever, and our excellent customer service is always there to assist you.
We export worldwide, so contact us for a FREE quotation today via email [email protected] or send a message on WhatsApp for a fast response +86-131-2037-9271.