SINOMACH Quick Facts:
Location: Beijing, China
Founded: 1997
CEO & Chairman: Zhang Xiaolun and Ren Hongbin
Categories of Specialization
Loaders
Road Rollers
Leveling Machinery
Backhoe loaders
And much more.
Market Position
SINOMACH is a Fortune 500 company with 284th ranking. It comes under the top 10 biggest contractors in Chinese industrial and power projects
SINOMACH exports equipment to over 70 countries and regions.
It has a market cap of 7.37 billion Yuan.
How is SINOMACH Quality, and What is SINOMACH known for?
Sinomach is an internationally recognized brand with over 27 subsidiaries – 13 listed. It has a diversified niche that covers key fields of the Chinese economy such as machine, energy, construction, electronics, light industry, and etc.
It's a brand that has consistently push international boundaries with innovation and growing competencies. It goes by the philosophy of working together and innovation that'll make it a leading world class enterprise.
Its agriculture machinery category is covered by its major subsidiary YTO group which is listed on Camamach. As for the construction machinery, the brand produces state-of-the-art loaders, mining trucks, excavators, automobile cranes, backhoe loaders, and road rollers.
Sinomach has maintained a stellar reputation over the years and continues to generate billions of Yuans in revenue every year. Data based on company's market position and future plans show that it'll grow even further with innovative new machines and raise quality standards for entire industry.
What are the Most Popular SINOMACH Products?
Here we have covered some of Sinomach's most popular products from its construction machinery department.
Popular Wheel Loaders – SINOMACH 918H | SINOMACH 955T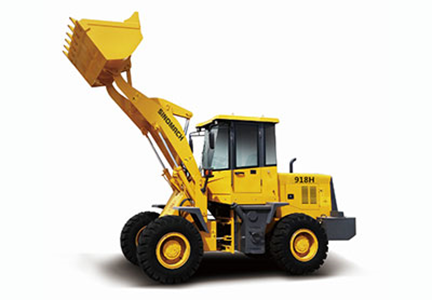 The 918H wheel loader by Sinomach features a Chinese brand LUOTUO engine, four gears – two forward and two reverse – and a hydraulic cylinder with combination seal to keep the machine leak free and reliable. The cabin is designed to provide easy access to the advanced control system while keeping the user comfortable with and ergonomic design.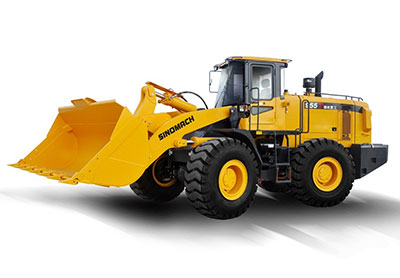 The SINOMACH 955T wheel loader features a Weichai engine with 162 kW of rated output, two reverse and one reverse power shift transmissions, and a combined sealing cylinder for an optimal and reliable sealing performance. It has a decent bucket size and a good enough height for the operator to comfortably navigate on site while sitting in an ergonomically designed cabin with advanced controls.
Popular Excavators – SINOMACH GE65H | SINOMACH G330H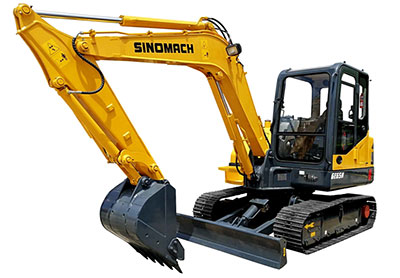 This is the Sinomach GE65H excavator featuring a YANMAR diesel engine of 36.2 kW rated output, an advanced hydraulics system for fast response, real-time smart monitoring system, compact structure, a centralized lubrication system for easy maintenance, and a comfortable cabin for the operator.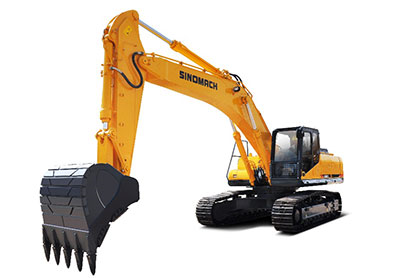 The SINOMACH GE330H Hydraulic Excavator features a powerful Cummins engine with low fuel consumption and greater reliability. There is an advanced hydraulics system, a large flow main valve and displacement min pump, uniform flow distribution, low pressure loss, and ease of operation. It is ideal for harsh mining conditions and has an advanced anti-glare electric monitoring system for self-diagnosis.
Popular Motor Grader – SINOMACH 713H | SINOMACH 724H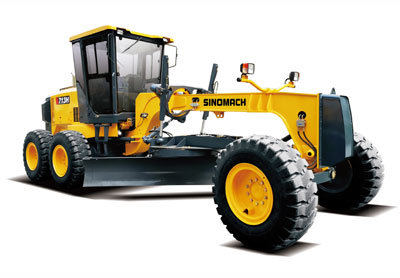 The SINOMACH 713H motor grader is equipped with a Cummins engine with 97KW rated power. There are 6 forward gears and 3 reverse gears of easy operation. The advanced hydraulics system comes with a hydraulic lock for standard operation. The machine also comes with a NO-SPIN differential having auto locking and unlocking function for strong traction and greater stability.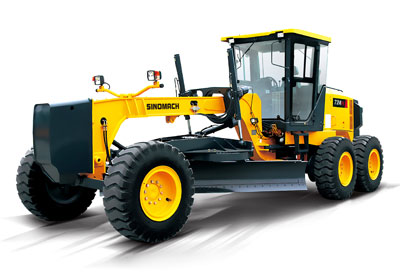 This is the Sinomach 724H Motor Grader features a Cummins engine of 179 kW rated output. There is a single-handle electric hydraulic control transmission, auto lock and unlock NO-SPIN differential for stability and strong traction. Furthermore, for a wide working range, the motor grader is equipped with a flexible blade suspension system and articulated frame.
Popular Road Rollers – SINOMACH Single Drum Vibratory Roller GYS22 | SINOMACH Road Roller GYR16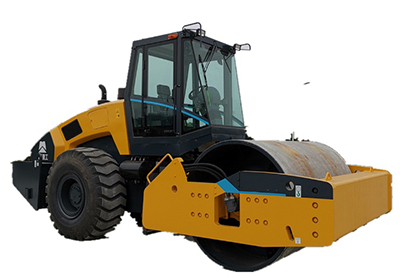 The SINOMACH Single Drum Vibratory Roller GYS22 comes with a Weichai engine of 140kW rated output. It vibrates the single at a dual frequency to provide additional compaction on tough roads. There is hydraulics cylinder with combination seal for better performance and a high-precision soil density gauge for accurate compaction of soil through the vibratory roller.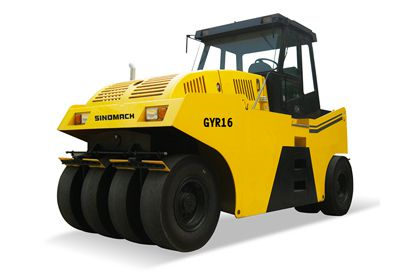 This SINOMACH road roller GYR16 comes with a Cummins engine of 93 kW rated output. It has multiple rollers and all standard specifications. It is built for long working hours and has an ergonomically designed cabin with comfortable seat and easier control system.
What are the Costs of SINOMACH Products?
What is the Cost of a Wheel Loaders for Sale?
The SINOMACH wheel loaders listed above range between $20,000 and $100,000 USD. These price range depends on and changes with respect to size and model of the wheel loader. For example, a 1–3 ton machine costs a lot less than a 6-9 ton machine. The best practice is to have a supplier like Camamach get you the best rates and deals.
What is the Cost of c Excavators for Sale?
The SINOMACH excavators listed above range between $10,000 to $90,000. The prices are determined by the size and model of the excavator. Contact Camamach to get the most recent rates on these machines and possible deals.
What is the Motor Grader for Sale?
The SINOMACH motor graders listed above ranges between $20,000 and $73,000 USD. The prices vary with size, model, and market conditions. Contact Camamach to get the most up to date rates and great deals.
What are the Cost Road Rollers for Sale?
The SINOMACH road rollers listed above range between $55,000 and $67,000. However, this price range changes the type of road roller and other factors. Contact Camamach to get the latest and best deals on the product.
Why is it better to import from China?
Chinese manufacturers have simplified the ordering process for international clients in recent years. However, it still needs a detailed understanding of the regulations and takes time, especially for bulk equipment.
It's best to work with a recognized company like Camamach. The following are some of the most typical issues that people encounter in these situations:
Communication barrier due to different languages
Brands place a low priority on small orders.
Unavailability of local distributors for certain brands in a country
Small orders typically do not receive better prices and offers.
Camamach deals directly with manufacturers, overseeing all technical aspects and looking for the best pricing and offers.
Why Should you Choose Camamach for importing equipment from China?
Bogus propaganda against Chinese-made goods has long been rejected. China is on the brink of becoming the world's next superpower, suggesting that its quality assurance standards are on par with the world's best. Purchasing equipment from a Chinese company saves you money while also providing you with production perks. You'll get better results at a cheaper cost when you combine this with Camamach's well-known support.
Here are some of the things Camamach does for its customers:
Frequent Factory Visits
The first step in ensuring that our clients receive superior products is to oversee the manufacturing process. We examine the factory on a regular basis to ensure that all laws and regulations are followed.
Identification of Quality Products from Reliable Manufacturers
Based on years of industry experience, Camamach has created strict manufacturer selection criteria.
End to End Procurement
From order to delivery, Camamach is responsible of the whole procurement process. This makes the ordering procedure easier for the customers.
Cost Savings
China is an excellent place to import low-cost, high-quality items since it offers the greatest prices, discounts, and long-term advantages.
Experienced Manufacturers
Camamach has been in business for years and only works with reliable, well-established companies. We've been able to deliver items to over 20 nations thanks to the help of such companies.
Long Term Cooperation
Camamach strives to form long-term business ties with its customers. As a result, it offers clients a long-term collaboration in which they may receive assistance with order-related difficulties.
Continuous QA/QC
Camamach guarantees that each and every stage of the order is completed correctly and that our clients receive the highest quality product possible through continuous quality control and assurance inspections.
Where and How to Buy SINOMACH Equipment and Products?
Here at Camamach, we have premium quality construction equipment from SINOMACH and other Chinese manufacturers for sale at reasonable rates. The ordering process remains as simple as ever, and our excellent customer service is always there to assist you.
We export worldwide, so contact us for a FREE quotation today via email [email protected] or send a message on WhatsApp for a fast response +86-131-2037-9271.