XGMA Quick Facts:
Location: Xuzhou, Jiangsu , China
Founded: 1951
CEO & Chairman: Tao Gu
Categories of Specialization
Wheel Loaders
Hydraulic Crawler Excavator
Road Equipment
Wheel Excavator
And much more
Market Position
XGMA ranks 9th in China and 46th in the global list of top 50 construction machinery manufacturers. As of 2013, it also ranked 67th in China's most valuable brands.
XGMA has established distribution channels in over 50 countries.
It has a market cap of 5.1 billion Yua
How is XGMA Quality, and What is XGMA known for?
XGMA is undoubtedly one of the biggest brands in China. As of today, the brand has four major R&D production bases in the country that have annually produce 40,000 loaders, 10,000 forklifts, 20,000 excavators, and over 5000 pavement making machines along with several other engineering products covering various industries.
Adhering to motto of 'Innovation, Courage, Cooperation and Transcendence', the brand has a global recognition as a competitor of quality and dominates the markets of construction and mining industry in particular. XMGA is also a manufacturer of military equipment and has played its role in strengthening the peacekeeping forces of China.
The brand, with stellar performance over the years has amassed billions of dollars of annual revenue and with continuing pursuit of innovation and excellence plans to increase investments in technical R&D and transformation and raise the product quality bar – analytical reports suggest that the brand will continue to grow in the coming future.
What are the Most Popular XGMA Products?
Here we have listed the most popular products manufactured by XGMA:
Popular Wheel Loaders – XGMA XG932H | XGMA XG956H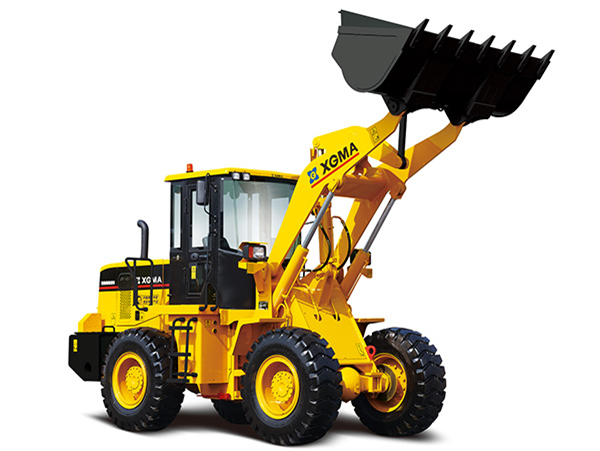 This is the XGMA Wheel loader model XG932H. It features a Yuchai engine with turbocharged, air-air intercooling technology to give you 30% more power with 10% fuel saving. It has patented hydraulics technology for efficient steering, energy saving, and low mantainence.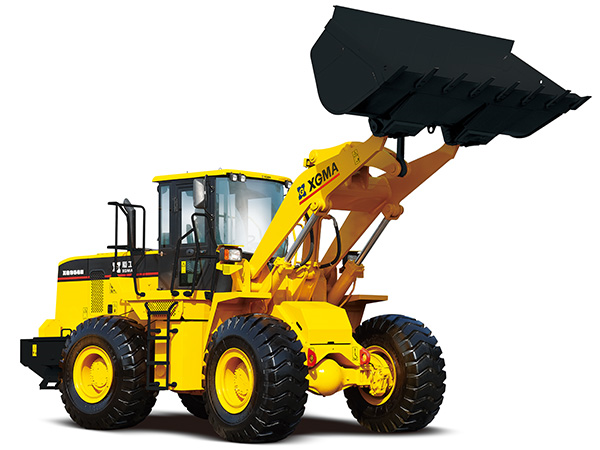 The XGMA XG956H wheel loader is one of the most popular products from the brand. It features an SDEC engine with 162 kw of power. It offers efficient loading with short operation cycle time, an optimized bucket structure, and a decent discharge height. It is also ergonomically designed where the cabin ensures safety, comfort, and ease of operation.
Popular Hydraulic Excavators – XGMA XG836 | XGMA XG822FL
The XGMA hydraulic excavator XG836 features a ISUZU 6HK1X engine with full electronic control energy saving mechanism and compliance with China 3 emission standards. Its short arms allows higher digging power while the durable bucket is strong enough to withstand long and harsh working environments. As for the cabin, it has a decent look with ergonomically designed interior and advanced control systems.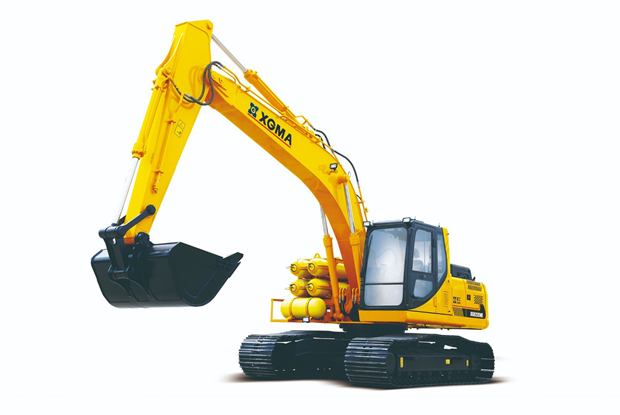 This is the XGMA XG822FL hydraulic excavator. It features a new generation energy saving and environmental EFI ISUZU 4KH1 that meets China 3 emission standards and reduces 10-15% fuel consumption. This model has an advanced controlling system and its efficiency has is significantly improved compared to its previous models.
Popular Bulldozer – XGMA XG432L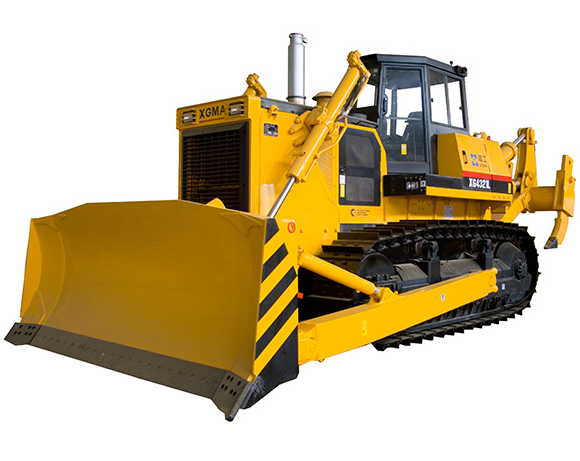 The XGMA XG432L Bulldozer features a Cummins NTA855-C360 engine with 235 kW rated power. It has an advanced structure and a hydraulic drive system for flexible and reliable operation. For stability on rough terrains, this bulldozer is equipped with a beam suspension design and for user comfort, the cabin features air conditioning and a comfortable design.
Popular Forklifts – XGMA 3.5Ton Diesel Forklift | XGMA Electric Forklift 1.6-3.5Ton (Lead Acid Battery)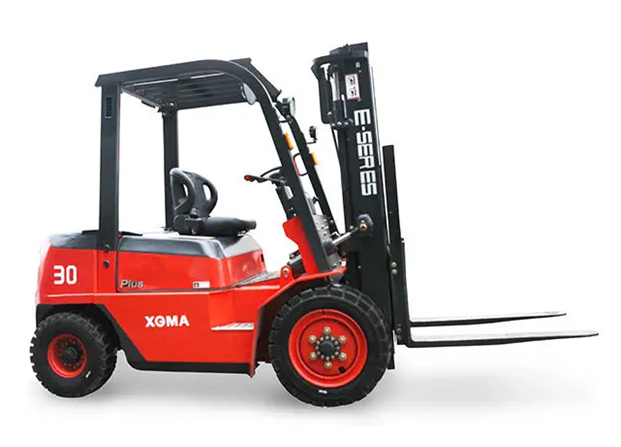 The XGMA CPC(D)30 3.5Ton Diesel Forklift features a 63.8kW engine that is optimally utilized with high-efficiency transmission system. Its components are tested and specially designed for different working environments.
This XGMA Electric Forklift 1.6-3.5Ton features a lead acid battery. It is equipped with a maintenance-free AC motor and a simple structure making it an affordable electric forklift without compromising the quality. It is ideally used in cold storage houses such as in food industry.
What are the Costs of XGMA Products?
What is the Cost of a Wheel Loaders for Sale?
The XGMA wheel loaders listed above range between $23,000 and $35,000 USD. However, this price range varies with size and model of the wheel loader. In order to get the latest prices and best deals on the products, Camamach is your ideal choice.
What is the Cost of Hydraulic Excavators for Sale?
The XGMA Hydraulic excavators listed above range between $100,000 to $130,000. This range varies with the size and model of the excavator and also changes with market conditions. Its best to have Camamach get you the latest prices and deals.
What is the Cost of Bulldozer for Sale?
The XGMA bulldozer ranges between $80,000 and $100,000 USD. The price depends on the model and size of the machine. Contact Camamach for best rates and deals.
What are the Cost Forklifts for Sale?
The XGMA forklifts range between $6,888 and $20,000 USD. The price is dependant on the type, size, and model of the forklift. If you are interested in XGMA forklifts, contact Camamach now for the most recent rates and best deals.
Why is it better to import from China?
In recent years, Chinese manufacturers have streamlined the ordering procedure for foreign customers. But it still necessitates a thorough awareness of the regulations and is time consuming, specifically for bulk equipment.
It is preferable to engage with a reputable provider, such as Camamach. Some of the most common difficulties that people face in these scenarios are as follows:
Communication barriers
Low prioritization by brands on small orders.
Unavailability of the brands local distributors in a country.
Small orders usually don't get better pricing and deals.
Camamach directly works with manufacturers, handling all technical details and seeking the most competitive prices and offerings.
Why Should you Choose Camamach for importing equipment from China?
False propaganda against Chinese-made items was repressed a long ago. China is on the verge of becoming the world's next superpower, which implies its quality control standards are world-class. Buying equipment from a Chinese manufacturer saves money and gives you production benefits When you combine this with Camamach's well-known assistance, you'll receive greater results at a lower cost.
Here are some of the things Camamach does for its customers:
Frequent Factory Visits
Supervising the production process is the first step in guaranteeing that our clients obtain better products. We inspect the plant on a regular basis to ensure that the company complies with all rules and standards.
Identification of Quality Products from Reliable Manufacturers
Camamach has developed stringent manufacturer selection criteria based on years of industry expertise.
End to End Procurement
Camamach is in charge of the whole procurement process, from order to delivery. This makes the ordering process a lot convenient for the clients.
Cost Savings
China is great for importing low-cost, high-quality goods as it gets you the best pricing, deals, and long -term benefits.
Experienced Manufacturers
Camamach has been in the business for decades and only deals with reputable companies with strong experience. With the aid of such companies, we've been able to distribute products to over 20 countries.
Long Term Cooperation
Camamach seeks to establish long-term business relationships with its clients. As a result, it provides long-term partnership in which clients may get help with order-related issues.
Continuous QA/QC
Through constant quality control and assurance tests, Camamach ensures that every stage of the order is proper and that our clients receive the best quality product.
Where and How to Buy XGMA Equipment and Products?
Here at Camamach, we have premium quality construction equipment from XGMA and other Chinese manufacturers for sale at reasonable rates. The ordering process remains as simple as ever, and our excellent customer service is always there to assist you.
We export worldwide, so contact us for a FREE quotation today via email [email protected] or send a message on WhatsApp for a fast response +86-131-2037-9271.