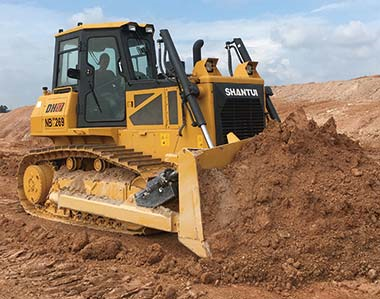 This is a 42-ton Large Bulldozer SD42 by Shantui. This specific dozer machine was delivered to our construction company client in Ghana. This dozer for salecan be customized according to the customers' requirements. Find more construction equipment for sale through Camamach.
Introduction – Industrial Machinery and Equipment
The team at Camamach is experienced at satisfying our clients from around the world. We supplied our client from Ghana with a bulldozer machine, one of the many earth moving machines we provide. Importing niche construction equipment, like a bulldozer can not only be time-consuming, but also overwhelming and expensive. Fortunately, Camamach is here to assist you in such complex task of importing niche heavy equipment from China.  
Determining What Kind of Heavy Construction Equipment Our Client Needs
Our client is a construction-based company from Ghana who required a machine that could be used for spreading and leveling the surface during several construction projects including road construction, demolition, and farming.
The client company from Ghana approached our team at Camamach and made an order for a large-sized bulldozer machine.
Though we have a wide range of bulldozers for sale at Camamach, research is a vital part of our services to serve our clients with the desired product.
Balancing the cost and quality of the construction equipment, we then worked towards finding the best bulldozer machine for our client.
Finding the Right Bulldozer Machine           
The experts at Camamach started the search for large-sized bulldozer machines that would meet our client's expectations.
We identified a 42-ton Large Bulldozer SD42 by Shantui; it is exactly what our client from Ghana was looking for.
This large-sized bulldozer machine can be customized to fulfill special requirements with compatible spare parts.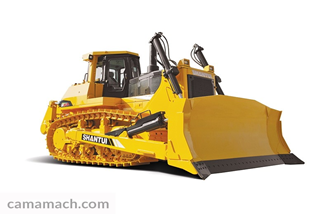 This is a 42-ton Large Bulldozer SD42 Shantui, the particular model that our client requested. This large bulldozer is eminent for its high efficiency and low fuel consumption properties.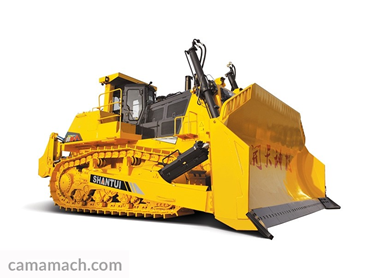 This one is a 90-ton extra-large Bulldozer SD90 by Shantui. This is another powerful road machine by Shantui. This extra-large bulldozer has better ground pressure and net speed when compared to standard and medium-sized bulldozers.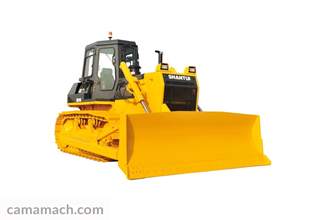 This 16-ton standard bulldozer SD16 is one of the best road machines manufactured by Shantui. This is an ideal size for farming purposes. It can also be used in spreading and leveling the ground during road construction.

Identifying Suitable Chinese Bulldozer Manufacturers
As soon as we get all the details related to our client's requirements, we started finding suitable Chinese bulldozer manufacturers.
There were around seven Chinese construction equipment manufacturers that could fulfill our client's requirements.
After comparing and analyzing these entire seven potential manufacturers Camamach shortlisted one construction equipment supplier based on the quality to cost ratio of their equipment.
Importing construction equipment from China can be a hard nut to crack, but with the assistance of our strong network of manufacturers, we managed to find a suitable bulldozer that we could import on time.
Achieved Cost-Savings to Provide a Heavy Bulldozer from Shantui
We informed our client from Ghana with the details of our best potential suppliers that we found after research. We updated them that we had found a 42-ton bulldozer from Shantui.
Once our client was content with our finding, they gave us a green signal to complete the order process for the 42-ton Large Bulldozer SD42 by Shantui.
Hence, we were able to complete the order within a compacted timeframe and also managed to attain an incredible cost saving of up to 20% for our client!
What Does This Mean for YOUR Personal/Commercial Construction Projects?
We all know that finding the right product for your business can be stressful, especially when time, cost, and quality are essential factors. Gratefully for this construction company, we experts in the heavy construction equipment industry and always find the best arrangements for our clients. If you are looking forward to importing this 42-ton bulldozer from Shantui, alternative construction equipment, or any other kind of heavy construction equipment for sale, then Camamach can be your helping hand! The procedure is very simple, all you have to do is:
Send us your requirements/specifications.
Include the quantity.
Include port of destination.
That's it!
Wondering Where to Find Quality bulldozer for Sale?
Whether you're looking for a bulldozer or for a trustworthy partner who can provide you with economical yet high-quality equipment, contact Camamach. Simply inform us of your company's exact requirements, such as a heavy-weight Bulldozer for building projects, and Camamach will instantly fulfill your request and complete the full procedure for you while saving cost!