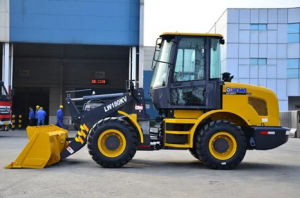 A wheel loader, also known as front loader, front end loader, is a type of heavy construction equipment that is used for shoveling, transporting, unloading and leveling. This industrial machine is widely used in holding and transporting loosely packed materials, such as sand, dirt, and pulverized minerals. The typical wheel loader price ranges from $25,000 - $500,000.
What are the LW180KV Wheel Loader's Special Features?
1. Strong structure
Heavy load design, the front and rear frame adopt girder structure, robot welding, high anti-torque coefficient and strong overloading ability. The key structural parts adopt the finite-element analysis to ensure that the machine could adapt to various kinds of dangerous working condition.
2. High efficiency
Fast operation: the total time of three devices is only 11s, and the speed is 15km/hour during the operation. Flexible steering: pilot flow amplification steering, flexible and efficient. Sufficient power: dual-pump combination, using the power efficiently.
3. Hydraulic pipeline
The hydraulic pipeline adopts DIN standard, two-level sealing of 24° cone and O ring, settling the common issue of leakage. The easily worn pipeline is equipped with the protection bush, prolonging the service life
4. Long service life
Key articulated positions are of two-stage dustproof, featuring small abrasion and long service life. Durable blade and bucket teeth feature longer service life.
Why buy a LW180KV Wheel Loader and what Construction Projects are they for?
The primary purpose of the LW180KV Wheel Loader is to load raw materials like demolition debris, gravels, logs, sand, bricks, etc. The Wheel Loader can be replaced by other attachments based on the specifics of the construction project. This Wheel Loader can be used both for commercial and private construction projects, and are primarily used for loading in modern construction work. XCMG can also customize the machine to suit your need.
Where to Find a LW180KV Wheel Loader for Sale?
Ordering the LW180KV wheel loader from XCMG directly has become more accessible over the years, but it can still be a slow and time-consuming process, especially when buying small quantities of equipment. You might also face difficulties such as language barriers and non-ideal prices. Therefore, Camamach may be a better choice for you. At Camamach, we have experience with reliable products and equipment from XCMG and other Chinese construction machinery manufacturers, all while helping you get the machine you desire at a competitive price.