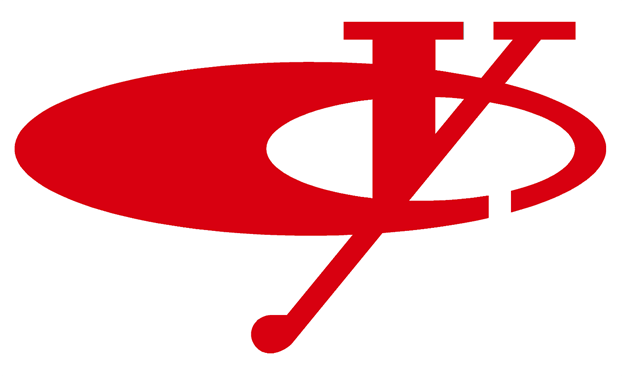 Yuchai Quick Facts:
Location: Yulin, Guangxi Province, China
Founded: 1951.
CEO & Chairman: Mr. Yan Ping
Categories of Specialization
Heavy Duty Trucks (Diesel and Natural Gas)
Specialized Purpose Vehicles
Tank Series
And much more
Market Position
Yuchai ranks 1st on the top 100 innovation enterprise in China and 4th n the list of China's Self-dependent Enterprises.
It ranks 9th in Top 100 China Machinery Industry Companie
Yuchai's sales and service system covers more than 30 countries.
Annual sales revenue exceeded $6.1 billion USD as of 2019.
How is Yuchai Quality, and What is Yuchai known for?
Yuchai is a well-established brand with s diversified business and has total assets exceeding 36.5 billion RMB. It is renowned for its heavy machinery manufacturing which spans from powerful state-of-the-art engines to heavy-duty trucks, special purpose vehicles, tankers, and construction machinery.
Though founded in 1951, the China Yuchai International Limited was listed on the New York Stock Exchange in the year 1993. It has strong national and international roots backing it as one of China's best brands. To give you an idea of its demand, Yuchai engines are suited to provide ideal performance to over 2000 diesel engine types, and the hydraulic excavators cover more than 40 series and 160 models.
What are the Most Popular Yuchai Products?
Yuchai produces diesel engines, mono-fuel engines, dual-fuel engines, Wartsila engines, construction machinery, spare parts, and vehicles such as heavy-duty trucks, special vehicles, and tankers. Here, we'll be covering the most popular of heavy-duty vehicles that are supplied by Camamach.
Construction Machinery
Construction machinery by Yuchai includes three types of machines: Earthmoving machine, Piling Machine, and Forestry Excavator. The brand has entered into all fields of the construction machinery industry.
Here are the most popular machines in the three categories:
Popular Earthmoving Machine – YCH08 Loader | YC18-8 Excavator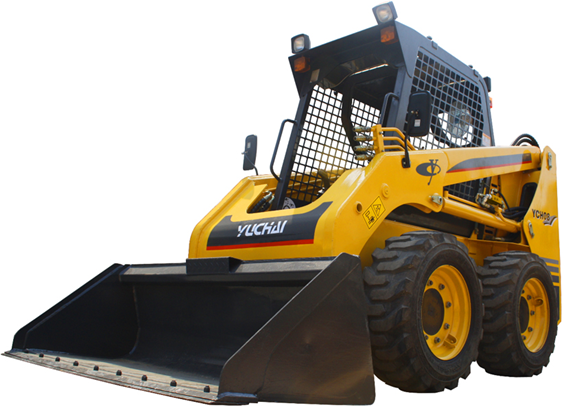 The YCH08 loader by Yuchai packs a 56 HP Kubota engine with a hydrostatic closed circuit transmition system and two variable displacement piston pumps. It features top-class throttled hydraulic system with gear pumps.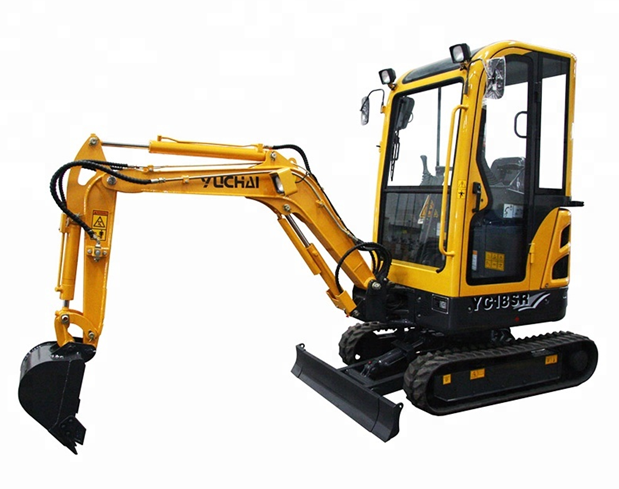 The YC18-8 Excavator by Yuchai is a mini excavator suitable for all kinds of jobs. It comes with the typical bi-directional piping and is perfectly suited for auger and rock hammering work. It features a Kubota engine, expandable tracks, a swing boom, hammer piping, and two speed modes.
Popular Piling Machinery – YUCHAI YCR-120 Rotary Drilling Rig | YUCHAI YCR-180 Rotary Drilling Rig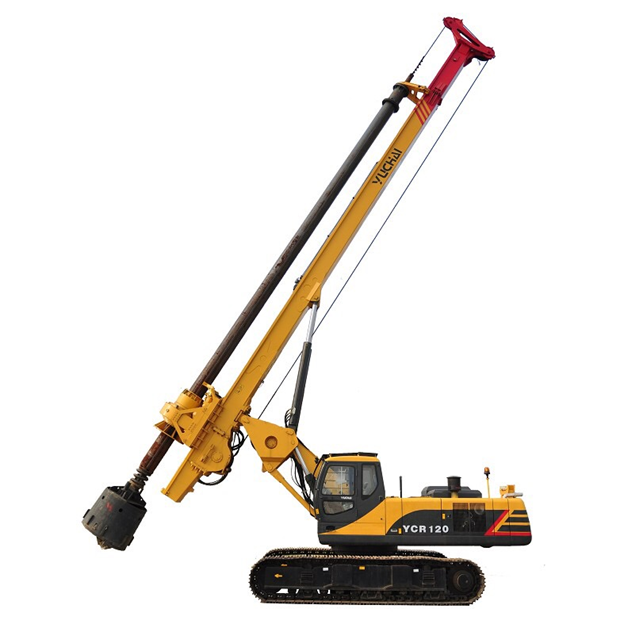 The YCR-120 Rotary Drilling Rig by Yuchai is equipped with a 6BT5.9-150 engine, a wide hydraulic drive structure Chassis, and a mast oriented drill pipe with friction and lock rod.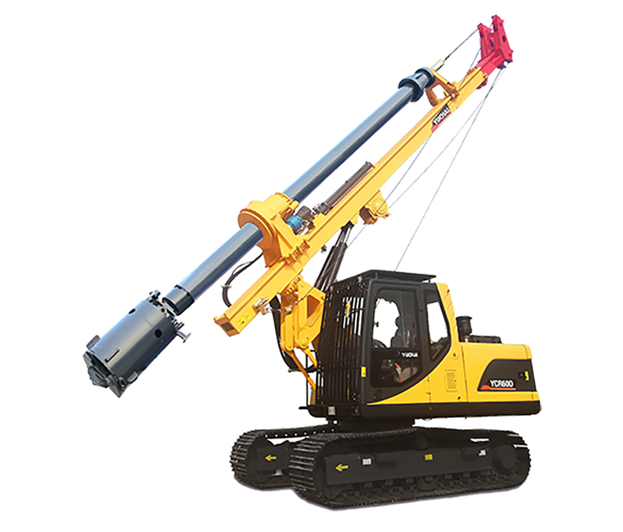 The YUCHAI YCR-180 Rotary Drilling Rig is equipped with a Cummins 6C8.3 engine, a box-type enhanced mast, and friction and lock rod drill pipe, and a wide hydraulic drive structure for enhanced reliability and stability.
Popular Forestry Excavator – YC130 Forestry Excavator | YC230LC-8F Forestry Excavator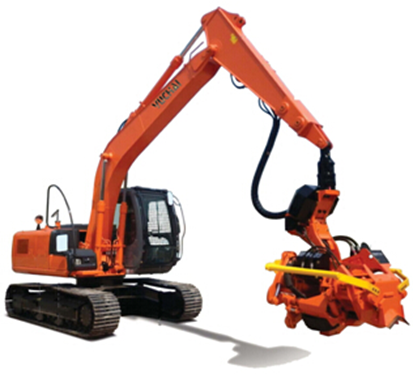 The Yuchai YC130 Forestry Excavator is a 1.4-ton excavator with variable traveling speed, rotation speed, and a 70% climbing capacity.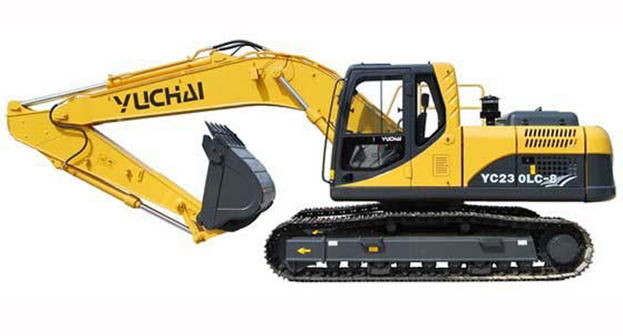 The Yuchai YC230LC-8F Forestry Excavator is a 2.23-ton machine equipped with a Cummins 6B5.9 Diesel of 112KW of power. It has an extra-strong tack frame and Kawasaki Aux hydraulics.
What are the Costs of Yuchai Products?
What is the Cost of Wheel Loaders for Sale?
The Yuchai wheel loaders range from $14,000 to $38,000 USD. The prices are dependant on the size and model of the wheel loaders and change quite often. It is best to get a free quote from Camamach for the latest and best prices.
What is the Cost of Excavator for Sale?
The Yuchai mini excavator ranges from $15,500 to $28,000 USD. This price range depends on the size and model of the machine and keeps changing with the market. Therefore, it is best to get a free quote from Camamach.
What is the Cost of Rotatory Drilling Rig for Sale?
The Yuchai Rotatory Drilling Rig listed above ranges from $40,000 to $60,000 depending on the size and specifications of the machine. The price increases with more features and customizations.
What is the Cost of Forestry Excavators for Sale?
The Yuchai Forestry Excavators range from $33,000 to $60,000, depending on the size and model of the machine. Contact Camamach for a free quotation and the best prices.
Why is it better to import from China?
In the last decade, Chinese manufacturers have streamlined the direct ordering process, but it is still time-consuming and requires people to be strictly familiar with the import regulations of the country. There are a lot of obstacles that you might face, especially if you have bulk orders. The most common obstacles include:
Different languages cause a communication barrier at different steps of the ordering process.
With direct ordering, brands don't usually prioritize small orders.
Yuchai might not have a local distributor in your country.
Small orders don't get better pricing compared to bulk orders without the assistance of a reputable supplier such as Camamach.
These were just some of the reasons why you need to have a middle man like Camamach. We handle the entire ordering process for you as per your requirements.
Why Should you Choose Camamach for importing equipment from China?
Yuhai is a reputable Chinese brand that offers you production and feedback. It is one of the prime examples to tell you that the propaganda against Chinese products is entirely baseless. The country will soon be a superpower and has strict guidelines that ensure high standards and quality.
The best practice when ordering from a Chinese brand is to let Camamach handle the ordering process. Some of the benefits that Camamach offers include:
Frequent Factory Visits
Supervising the production process is the first step in guaranteeing that our clients obtain the highest quality goods. With regular factory visits, we ensure that the company strictly adheres to all rules and procedures.
Identification of Quality Products from Reliable Manufacturers
Camamach has rigorous producer selection standards that have been refined over decades of industry expertise.
End to End Procurement
Camamach supervises every procedure from order - to - delivery with end-to-end procurement. This provides our clients with the maximum satisfaction.
Cost Savings
China is excellent for buying high-quality equipment at a low cost. Camamach assists its clients by obtaining the best feasible industry bargains.
Experienced Manufacturers
Camamach has years of industry experience with top manufacturers in the game. In collaboration with such brands as Yuchai, Camamach has supplied heavy machinery to over 20 countries.
Long Term Cooperation
Camamach seeks long-term business relationships with its clients. As a result, it provides longer engagement in which clients are supported with any order-related issues.
Continuous QA/QC
Camamach ensures that every procedure in the order is consistent and that our clients receive the finest product possible through constant quality assurance and quality control.
Where and How to Buy Yuchai Equipment and Products?
Here at Camamach, we have premium quality construction equipment from Yuchai and other Chinese manufacturers for sale at reasonable rates. The ordering process remains as simple as ever, and our excellent customer service is always there to assist you.
We export worldwide, so contact us for a FREE quotation today via email [email protected] or send a message on WhatsApp for a fast response +86-131-2037-9271.