Sinotruk Quick Facts:
Location: Headquarters in Hong Kong
Founded: Incorporated in 2007 as a subsidiary of the China National Heavy Duty Truck Group, founded in 1935
CEO & Chairman: Cai Dong
Categories of Specialization
Heavy Duty Trucks
Specialized Vehicles
And much more
Market Position
The brand ranks 102nd among the top 500 Chinese manufacturing enterprises and 222nd among the top 500 Chinese enterprises.
It ranks 9th in Construction Machinery Manufacturing for Hong Kong and 1st in China's domestic Heavy Duty trucks industry.
It supplies equipment to more than 110 countries in the world.
Annual export volume exceeds $1.47 billion USD.
How is Sinotruk Quality?
Sinortruk is one of the biggest heavy-duty truck manufacturers in the world. It's the first international heavy truck enterprise for China and is, without a doubt, the best the country has to offer. The brand was listed on the Hong Kong Stock Exchange in 2007, while the parent company, which was China's first heavy-duty truck manufacturers, has been in business for 86 years.
What is Sinotruk known for?
Sinotruk sold more than 500,000 commercial vehicles in 2020, out of which 300,000 were heavy-duty trucks. There was a 67% increase in year-on-year sales for heavy-duty trucks and an 80% year-on-year growth rate for light trucks. With over USD 1.47 billion in exports, the company far outpaces any other manufacturer in the Chinese industry.
Needless to say, Sinotruk has a well-established reputation in the world, and it has more than enough numbers in revenue to keep living up to the expectations.
The brand is mainly known as the manufacturer of the best heavy-duty truck in China, but it also manufacturers special purpose vehicles, buses, engines, transmissions, and chassis.
What are the Most Popular Sinotruk Products?
Sinotruk's reputation is rooted deep within the industry, and the sole credit belongs to the sustained quality of products. Over the years, the company has introduced products and continues with the innovation to deliver new and improved products.
Here are the most popular products by Sinotruk:
Heavy Duty Trucks
As the name suggests, heavy-duty trucks are engineered to carry heavy loads over long distances. sHaving powerful and cost-saving trucks in your business is vital for a reliable and optimal workflow. Heavy duty trucks by Sinotruk are:
Popular Truck Head – Sinotruk 6 x 4 371HP / Sinotruk 6 x 4 420HP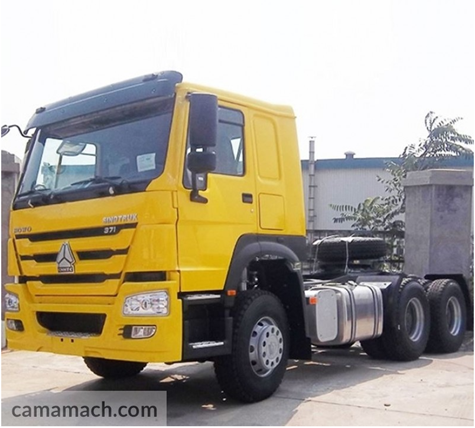 The 6 x 4 371 HP truck head by Sinotruk has a 10-wheel tire design and a turbocharged diesel engine that has been built with Steyr technology and is best suited for carrying tanker trailers low bed trailers, and flatbed trailers.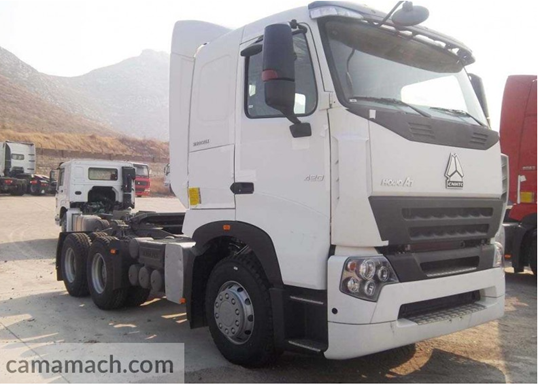 The 6 x 4 420HP truck head by Sinotruk houses a super-notch 4-stroke 6-cylinder turbocharged engine. The main difference between this and the previous item is the engine. Both provide competitively good performance for the given specifications.
Popular Product – Sinotruk 6 x4 Hook Arm Garbage Truck | Sinotruk 6 x4 compress Garbage Truck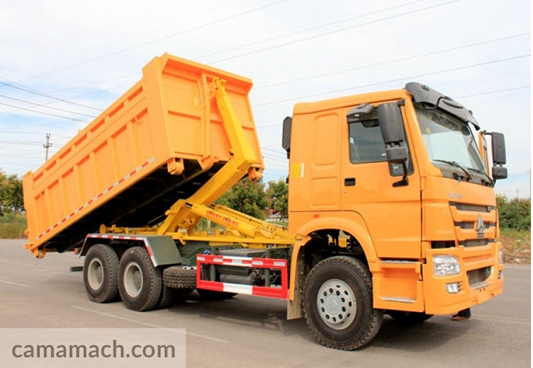 The Sinotruk 6 x 4 Hook Arm garbage truck features a hydraulic hook system on the chassis for efficient loading and unloading. The truck head houses a 4-stroke 6-cylinder engine with turbocharging, inter - and water -cooling technologies.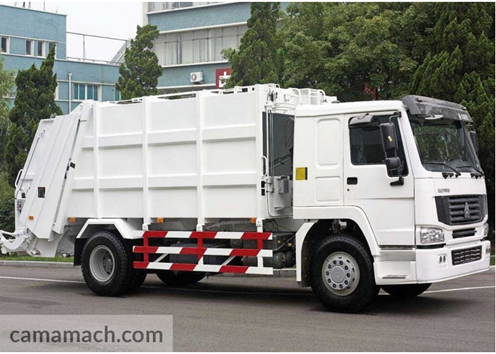 The Sinotruck 6 x4 Compress Garbage Tuck features compression technology. It has a high compression ratio, high loading capacity, and proper sealing. It also acts as a dumpster truck.
Popular Cargo Truck – Sinotruk 6 x 4 / Sinotruk 8 x 4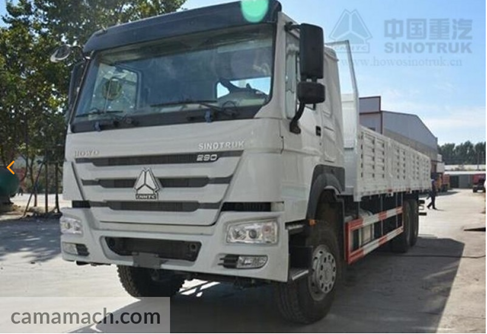 This is the 6 x 4 Cargo Truck by Sinotruk. It features the 6-cylinder 4-stroke 336 horsepower diesel engine with inter- and water-cooling technology to haul your cargo for long distances.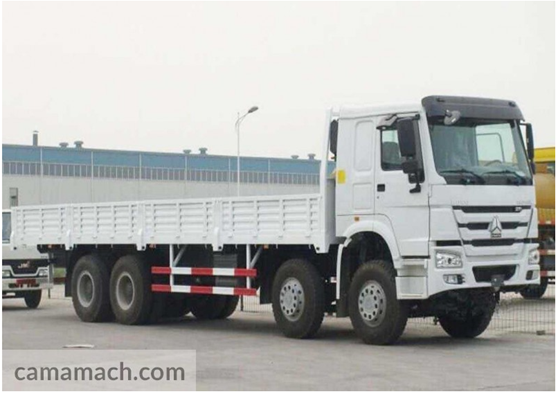 The 8 x 4 Cargo Truck by Sinotruk features more room and a much powerful engine than the previous product. The truck head has the same 6 cylinder and 4 stroke engine with 371 horsepowers, inter, and water cooling technology.
Popular Dump Truck – Sinotruk 6 x 4 Mining / Sinotruk 6 x 4 / Sinotruk 8 x 4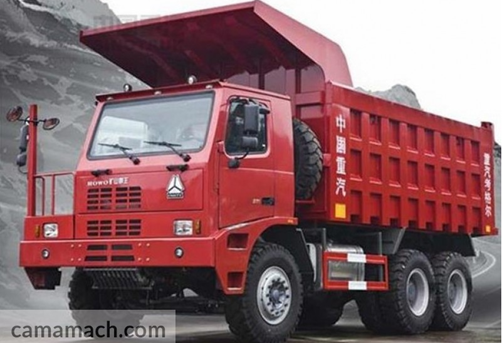 The 6 x 4 Mining Dump Truck by Sinotruk is engineered to withstand heavy and rough loadings and unloadings of a mining site. It features a 371 HP diesel engine with turbocharging and water cooling. The truck also has a specially designed super braking system for safety on rough terrains.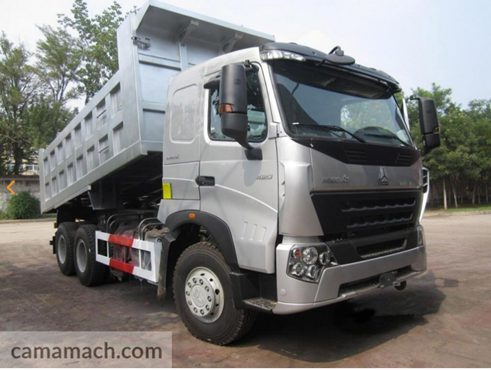 This is the 380 HP 6 x 4 Dump Truck by Sinotruk. The engine carries all the signature features of a Sinotruk truck head. The carrier is controlled with advanced hydraulics, and to ensure safety with added heavy loads, the truck also features a 3-style braking system, a traverse stabilizer, a floating suspension, and shock absorbers.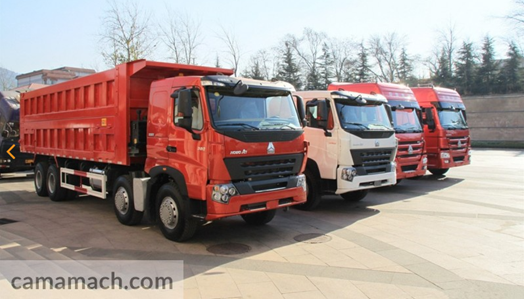 The 8 x 4 Dump Truck by Sinotruk features hydraulic rams for lifting the truck. The truck head houses the classic engine system along with a sophisticated electrical system.
Specialized Vehicles
Special vehicles are equipped with sophisticated technologies to perform specific tasks. There is a wide variety of special vehicles supplied by Camammach. Special Vehicles by Sinotruk include:
Popular Fire Truck – Sinotruk 15 ton Water Foam Fire Fighting Truck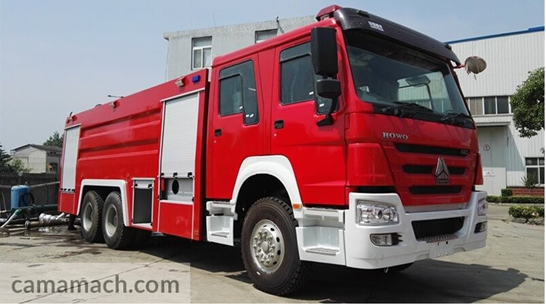 This is the top-of-the-range 15-ton Fire Truck by Sinotruk. It is amongst the biggest HOWO series by the brand, giving you assurance in regards to demanding emergencies. The engine packs 266 HP, and the chassis houses a massive water foam tank that can store 15 cubic meters.
Popular Mobile Workshop – Sinotruk Customized Mobile Workshop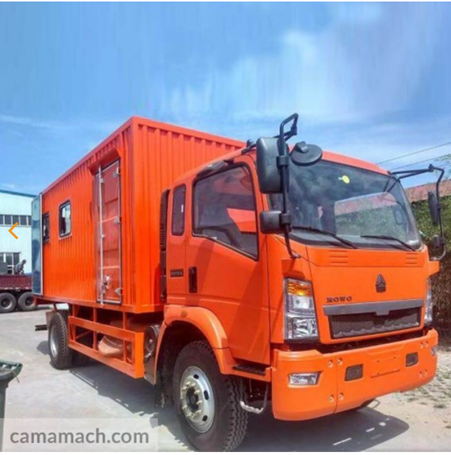 The Customized Mobile Workshop by Sinotruk is one of the most popular special vehicles supplied by Camamach. It comes with a powerful truck head and a buyer-specific workshop in the container.
Popular Tankers – 6 x 4 oil Tank Truck / 6 x 4 Water Tank Truck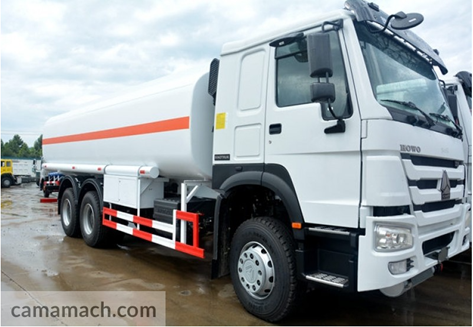 The 6 x 4 Oil Tank Truck by Sinotruk is one of the most recommended petrol tankers. It features a 20 CMB cargo body and comes engineered with the lowest possible Kerb weight and best safety measures.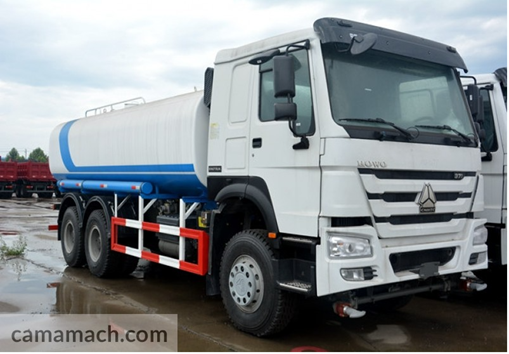 This is the 6 x 4 Water Tank Truck by Sinotruk. It comes with both left and right and driving options. The truck head contains a standard Sinotruk engine, and the tank body is capable of storing 20 cubic meters of water.
What are the Costs of Sinotruk Products?
What is the Cost of Truck Heads for Sale?
The typical Sinotruk truck head available for sale at Camamach ranges from $43,750 to $47,375 USD. The price is dependent upon machine size and model. The prices continually change, so it's recommended to contact us first for the latest prices.
What is the Cost of Dump Trucks for Sale?
The Dump Trucks supplied by Camamach range from $50,000 to $63,125 USD. The prices vary depending on truck size and model. It's better to contact Camamach for the latest prices.
What is the Cost of Garbage Truck for Sale?
Garbage trucks supplied by Camamach range from $45,000 to $140,000 USD. The prices, depending on the model and size, constantly change from the manufacturer. Contact Camamach for the latest prices on Garbage trucks.
What is the Cost of Fire Trucks for Sale?
Fire truck by Sinotruk currently costs $98,400 USD. However, the price keeps changing. Contact us now for the latest prices.
What is the Cost of Cargo Trucks for Sale?
Cargo Trucks by Sinotruk range from $45,650 to $48,750 USD. These prices are determined by the size and model of the cargo truck and constantly change. Contact us now for the latest rates.
The Mobile Workshop by Sintruk costs $87,500. However, the price is determined by the specific customizations of the workshop. Contact us now with requirements to get a free quote.
What is the Cost of Tankers for Sale?
The tankers by Sinotruk vary from $41,600 to $42,250. The prices are dependant on the model and size of the tankers. Contact Camamach for the latest prices as they keep changing.
Why is it better to import from China?
In recent years, ordering heavy equipment directly from Chinese manufacturers such as Sinotruk has become easier. However still, the process can be time-consuming, especially when you are not ordering bulk equipment. You are likely to come across many obstacles when importing equipment from foreign soil. That is why, at Camamach, we serve as the middle man between you and Sinotrcuk – and its subsidiaries. We handle every ordering and importing process for you and do quality assurance checks before the equipment is delivered to you.
These barriers include:
Communication barriers, primarily due to different languages
Ordering in small quantities might not be prioritized by the brand — slow feedback and after services. 
Sinotruck's local distributor might not supply in your country.
Uncompetitive prices for small orders.
We at Camamach deal directly with Sinotruk and take care of all the obstacles a business faces when ordering directly. We can get better pricing and feedbacks for you, all while providing you the flexibility to order exactly what your business needs.
Why Should you Choose Camamach for importing equipment from China?
Getting your equipment from the Chinese brand Sinotruk comes with the benefits of production and cost reduction. Long has the baseless bias against Chinese manufacturers existed around the world. China is en route to becoming the next superpower and offers several advantages along with high-end quality. Importing from a reputable Chinese manufacturer such as Sinotruk combined with the trustworthy assistance of Camamach will get you the best results possible.
Some of the benefits that Camamach offers include:
Frequent Factory Visits
The first step in ensuring that our clients receive the best quality products is to supervise the manufacturing process. We make sure that the manufacturer follows all regulations and procedures to the letter with frequent factory visits.
Identification of Quality Products from Reliable Manufacturers Frequent Factory Visits
Camamach has strict manufacturer selection criteria that has been perfected with years of experience in the industry. This makes sure that our clients receive products of the highest quality.
End to End Procurement
With end to end procurement, Camamach oversees every process from the moment to order to delivery. This gives our clients the highest form of convenience.
Cost Savings
China is perfect for ordering high-quality equipment at affordable rates. Camamach helps its clients by getting them the best possible deals in the market.
Experienced Manufacturers
Camamach has been in the industry for years and only works with experienced manufacturers with a stellar reputation. We have exported equipment with such manufacturers to over 20 countries.
Long Term Cooperation
Camamach aims to establish a long-term business relationship with its clients. That is why it offers long-term cooperation where clients are assisted in any issue they face regarding the order.
Continuous QA/QC
With continuous quality assurance and quality control, Camamach makes sure every process in the order remains consistent and our client gets the best product.
Where and How to Buy Sinotruk Equipment and Products?
Here at Camamach, we have premium quality construction equipment from Sinotruk and other Chinese manufacturers for sale at reasonable rates. The ordering process remains as simple as ever, and our excellent customer service is always there to assist you. We export worldwide, so contact us for a FREE quotation today via email [email protected] or send a message on WhatsApp for a fast response +86-131-2037-9271.