What is an All Terrain Crane?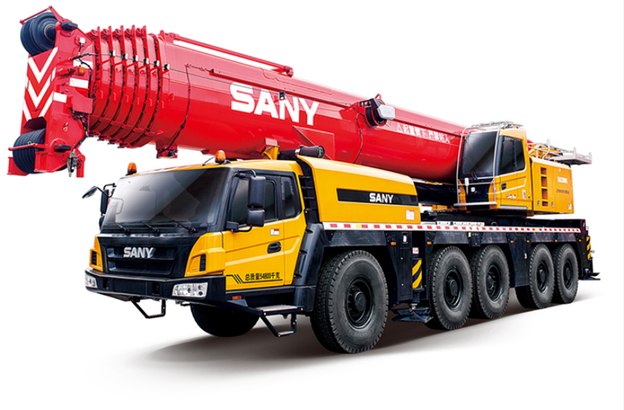 All-terrain crane is a mix between a mobile truck crane and a rough terrain crane. It can easily operate on sand and gravel and can travel smoothly on asphalt surfaces like roads.
Terrain Cranes are highly beneficial for the construction industry since they can lift and lower weights beyond manpower. Camamach has these machines fully stocked with updated features. They are engineered to increase productivity while ensuring safety.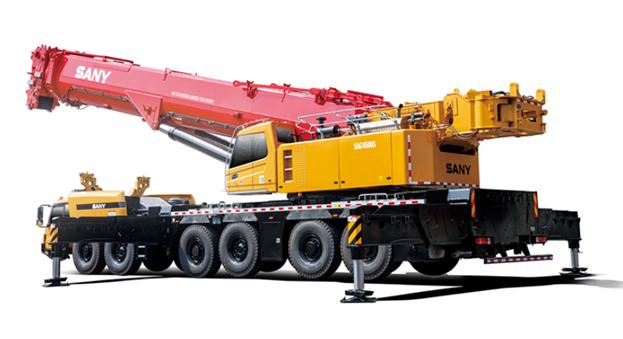 All Terrain Crane Features
The general features include:
The Operators Cabin
The Truck has a cabin fitted for the operator to control the Boom as well as the mobility of the crane. It ensures the safety of the operator and provides optimal visibility for the accuracy of the operation.
Telescopic Boom
It is the steel arm of the crane that carries the load.
Hoist and Hook
A hoist is located at the base of the boom, it has a hook attached to it. The function of these is to raise or lower the load.
Hydraulic pumps
Hydraulic pumps provide pressure to the system to lift and move heavier loads.
Counterweights and Outriggers
They are components located at the sides of the crane to stabilize by distributing weight while the boom carries heavy loads.
All Terrain Crane Uses
Construction Purposes
All-Terrain Cranes are built to operate in conditions with rough, mild, or smooth terrain. They are suitable to work in remote construction sites, making the process easier for the workers.
Installation
The main factor of having an All-Terrain Crane is that it can lift heavy loads. Hence, it is commonly used in the installation of oil and gas pipelines, wind turbines, etc.
Deforestation
All-Terrain Cranes even operate in areas with forestation due to their accessibility and are used for carrying heavy trees and other loads to clear out the area.
All Terrain Crane Types
Here is the product offered by Camamach:

Where to Buy All Terrain Crane?
Camamach has got the highest quality All terrain cranes for sale in stock. If you require bulk quantities of this equipment, then Camamach is the best choice.
Which Countries Manufactures All Terrain Cranes in Bulk?
In the industrial sector, all terrain cranes are quite common. They are in high demand, particularly in underdeveloped nations.
The best equipment is manufactured byChina, Germany, Sweden, and the United States.
Who are the top Chinese Manufacturers of All Terrain Cranes?
China is a major manufacturer of Lifting machinery. Camamach has selected the top Original Equipment Manufacturers (OEMs) and evaluated them in every way. All Terrain Crane at Camamach is:
 Contact us now for detailed specifications and videos along with the pricing.
What's more in the store?
Camamach has a lot more to offer in the lifting machinery category. Some of the machinery includes: