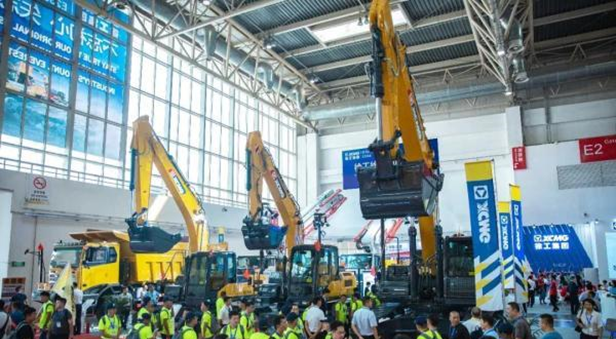 What is BICES China?
Camamach recieved the chance to attend the Beijing International Construction Machinery, Building Material Machines, and mining Machines Exhibition & Seminar, located at the new China International Exhibition Center in Beijing! Companies and industry professionals from all around the world attended this construction equipment event to learn more about the newest and upcoming construction machinery and technology. BICES China is one of the largest and leading trade fairs for everything that deals with construction machinery, building material machinery, mining, and construction vehicles in China and all of Asia.
Camamach and BICES China
Camamach was in attendance with about 150,000 visitors from 30 different countries and regions. Camamach was able to witness and discuss the newest innovations and technologies in the construction and machinery industries from around the world. Camamach is a Chinese sourcing agent for construction equipment and spare parts; we assist companies all over the world in locating and obtaining the best Chinese construction equipment available.
Below is a list of notable construction equipment products that we came across during our visit at BICES.
Next Generation Chinese Excavators at BICES
XCMG XE490DK Excavator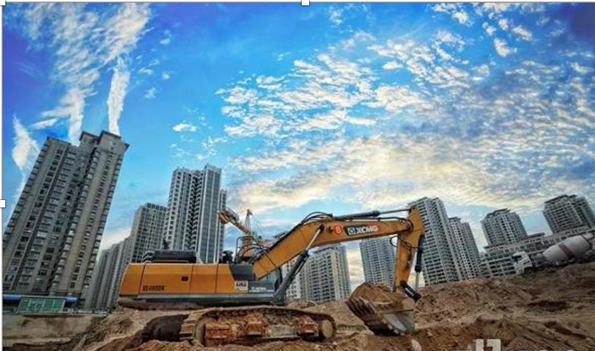 The XE490DK crawler excavator manufactured by XCMG has a hydraulic drive independent cooling system, which can stand in both high and low temperature, and a fan reversing system which makes it easy to clean. One important feature of this excavator is that it reduces an average fuel consumption of 20%. It was awarded the "Top 50 Products of China Construction Machinery".
XCMG XE215DA Hydraulic Excavator
This is the XCMG XE215DA hydraulic excavator. This model is from the XE excavator series and has a high-efficiency hydraulic system, an optimized internal structure, and a special low-speed high-torque engine. One important features of this excavator is that it has a large-bore bucket cylinder that increased its digging force buy more than 5%.
XCMG XE150WD Excavator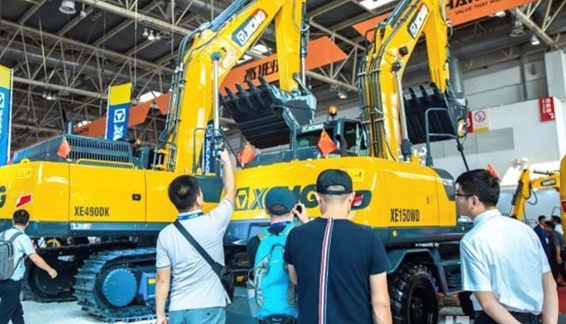 This is the XCMG XE150WD wheeled excavator. This excavator has a new generation stage-3 engine with powerful power, low fuel consumption and strong adaptability. It also has top class supporting drive motor and box bridge system to improve the passing and driving ability. The XE150WD is ideal for construction projects where maneuverability and agility are important characteristics.
ZHTE ZT-60W Mini Wheel-Excavators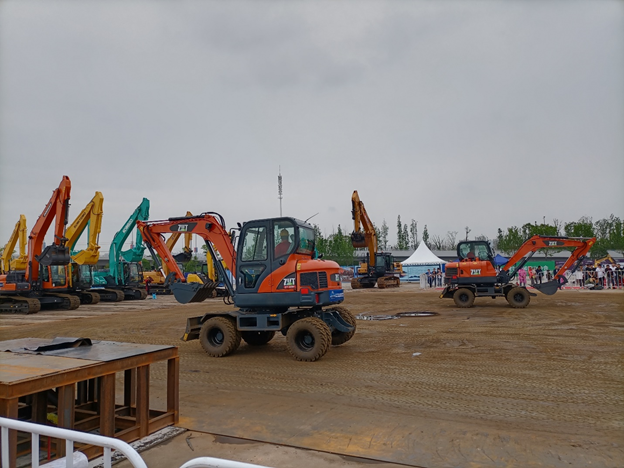 This is the new ZT-60W Wheel Excavator that was manufactured by ZHTE Hydraulic Technology Co., Ltd, headquartered in Beijing. ZHTE is a significant manufacturer of excavators, motors, and hydraulic pumps. ZHTE primarily specializes in manufacturing quality mini wheel excavators at competitive prices.
New Backhoe Loaders for Sale at BICES
LiuGong 856H Wheel Loader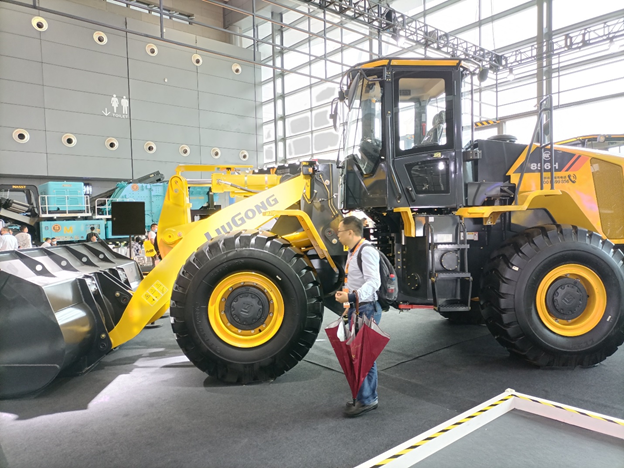 The LiuGong 856H wheel loader is a new and innovative model from the LiuGong wheel loader series. The 856H has a rated power of 160 kW (214hp) at 2000 rpm and an operational weight of 17.8 tons. Among the numerous possible attachments that may be used with this machine are additional buckets, pallet forks, grapples, snow pusher blades, and sweeper brooms.
SDLG B877F Wheel Loader
SDLG is a world-class Chinese construction machinery company who exhibited twelve products at the BICES event. The B877F is a SDLG Wheel Loader which incorporates a powerful Yucai engine to provide the hydraulic system with a strong digging power of 48kn. It also has 10% more ground clearance than the typical wheel loader by other manufacturers.
LiuGong 820C Wheel Loader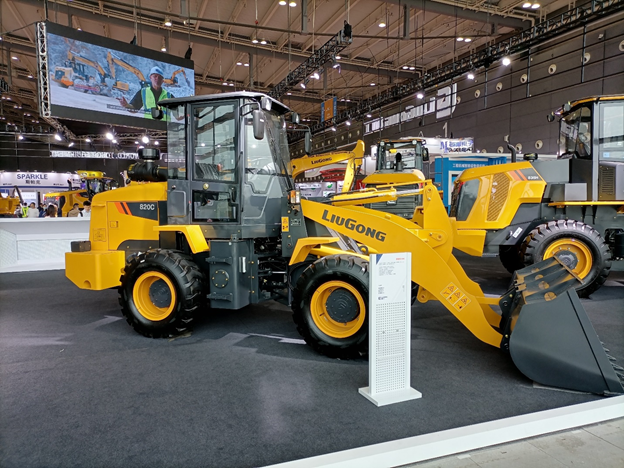 The LiuGong 820C wheel loader is a pristine model in the LiuGong wheel loader line. With an assessed rated power of 66 kW (89hp) at 2.3000 rpm, the 820C has a strong working load of over 6.400kg. Like all of the heavy equipment from LiuGong, the manufacturer offers customizable buckets, pallet forks, hooks, snow pusher blades, and sweeper brushes for this model.
Different Types of Cranes Showcased at BICES
Zoomlion 2021 Crawler Crane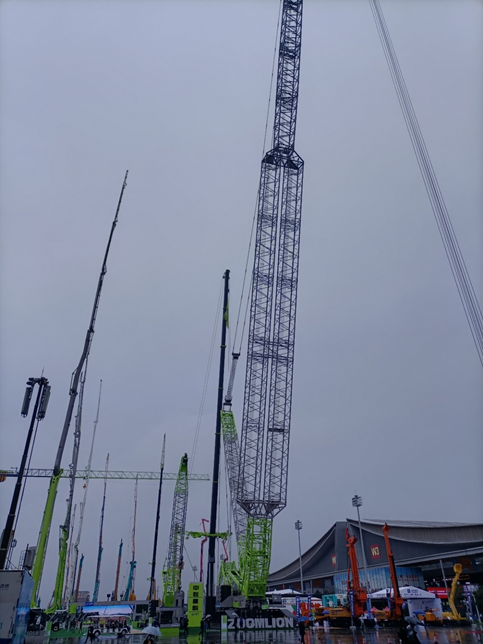 Zoomlion is known for the high quality of its cranes. The crawler crane and tower crane are the two most popular types of cranes manufactured by Zoomlion. Crawler cranes from Zoomlion are incredibly large in size but are still very portable and manoeuvrable, making them perfect for large-scale construction projects on the job site.
Zoomlion 2021 Truck Cranes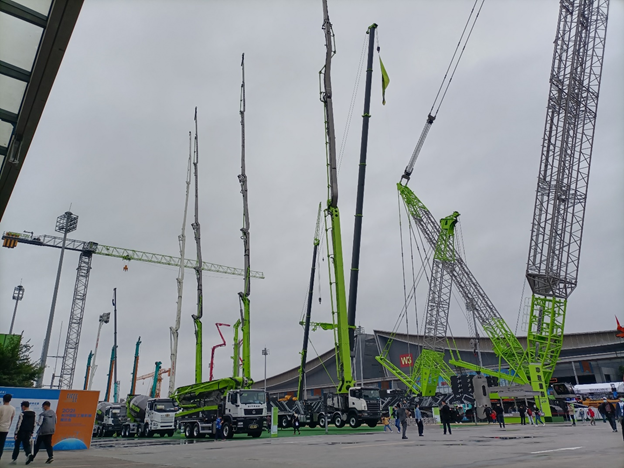 The Zoomlion truck crane series is very well-known in the global truck crane market. Truck cranes from Zoomlion are recognized for their compact and precise design, as well as their high fuel efficiency. Zoomlion truck cranes have been extremely popular in recent years and with their new models showcased at BICES, the company will only continue to expand the reach of their extraordinary machinery.
ZTM 2021 Tower Crane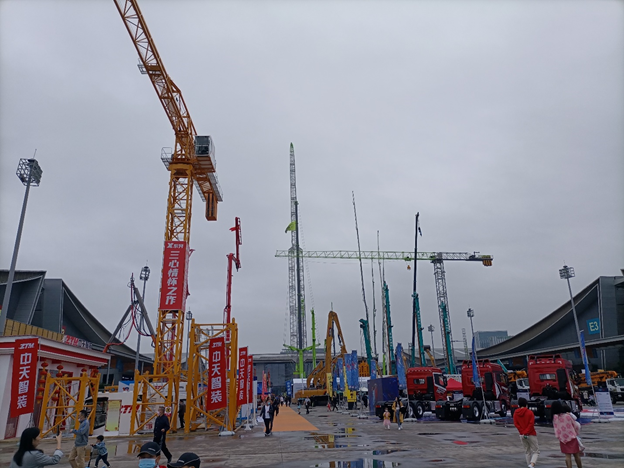 Zhongtian Intelligent Equipment Co., Ltd. (ZTM) is a heavy lifting and construction equipment company in Jiangxi, China. The firm, which was founded in 2003, specialises in the development and manufacture of tower cranes and construction hoists, such as the flat top tower crane series (ZTT), luffing tower crane series (ZTL), derrick crane series (ZTD), and the construction hoists SC series.
Road Construction Equipment Showcased at BICES
SANY Concrete Mixer Trucks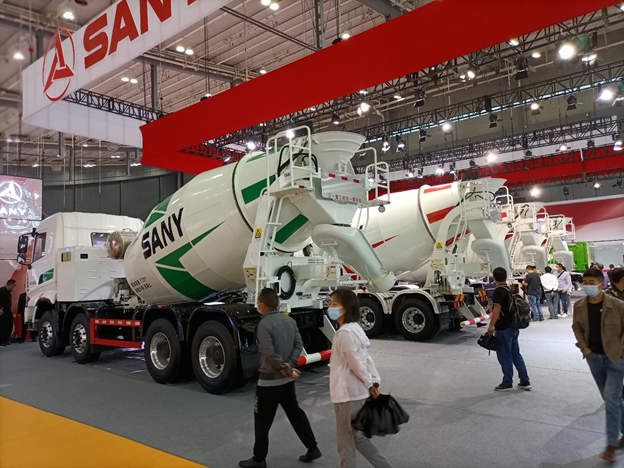 One of the numerous new SANY items on display at BICES was the STM cement mixer truck
series. These transit mixers are equipped with cutting-edge technology, dependable components, and high-quality, durable materials. Many construction businesses throughout the world rely on SANY's concrete machinery for road construction operations.
SDLG RS6260 Road Roller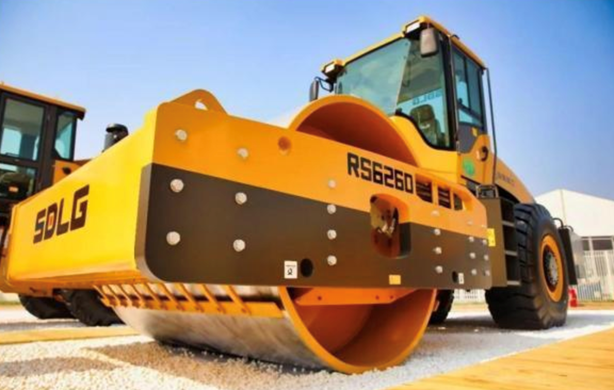 This is the SDLG RS6260 road roller machine. This road roller is equipped with a Rexroth hydraulic system which achieves all-hydraulic drive. It has strong bearing capacity and better reliability compared to other road roller machines. It is an ideal choice to handle large commercial projects like the maintenance of highway, railways, and other industrial sites.
What Values can Camamach Bring to YOU?
We at Camamach are very familiar with the items on display at CICEE. It is our objective to find the best heavy equipment for you based on your unique demands and specifications, both in a timely and cost-effective manner. Camamach is able to add a lot of value for businesses in need of heavy equipment, including:
Choosing a Supplier : How do you know which equipment is right for you and your budget? Camamach conducts due diligence to find the right equipment for your needs at the right price.
Choosing the Right Product: Our engineering team will work with you and discuss the products you need for your project and work. Camamach will manage risk through finding the right vendor, finding the right product, and conducting after-sales inspection.
Quality Control: We will use inspection agencies around the world to conduct internal and third-party inspections to ensure you get quality equipment.
Product and Supplier Development: We are committed to fully understanding your needs and cooperating with vendors to customize equipment for you.
Localization: We work with manufacturers to meet all the requirements in their country.
Logistics: We will handle the process of getting the machine from the factory in China to your country. This is true for both small and bulk orders.
Customized Tracking: We provide personalized tracking, so you can track your purchases from the moment it leaves the factory to when it arrives at your location.
Engineering Support: We have our engineering staff ready to help you with anything you might come across.
Spare Parts Selection: We know that our work doesn't stop when you purchase your equipment, which is why we support you with after-sales services, including the procurement of spare parts. We are committed in forming a long-term relationship with our clients.
Wondering Where to Find BICES Featured Construction Equipment for Sale?
Here at Camamach we have BICES showcased equipment for sale and a lot more. We provide heavy construction equipment from the event's featured manufacturers, as well as a number of other well-known Chinese manufacturers. Send us an email at [email protected] or visit our contact page for a FREE quote right now! We ship worldwide!